Take your wild game and turn it into wildly satisfying jerky. Making your own jerky from game meat not only saves money but also frees up space in your freezer, since packaged jerky takes up less room than unprocessed game meat. Most jerky recipes can be used for any type of antlered game or waterfowl, but you do need to take extra time to completely trim all silver skin, gristle, and fat from the meat. Silver skin or gristle left on the meat will be tough and chewy, and fat may become rancid.
Here are our favorite easy homemade jerky recipes for various types of game meat.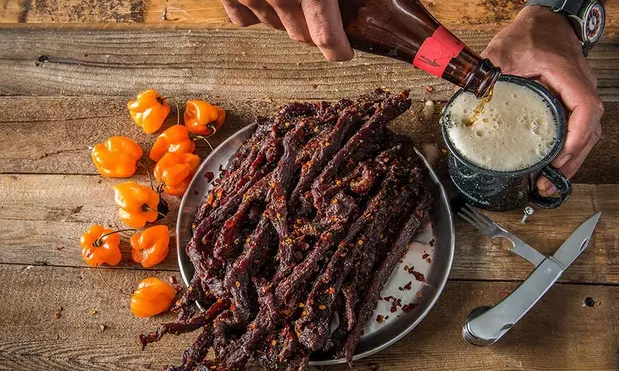 Thin sliced venison marinated in some rich flavor and seasoned with red pepper flakes, cayenne and habanero for some lingering spice, smoked in a Traeger grill for ultimate convenience and flavor!
Ingredients:
2 Pound venison, trimmed
1 Teaspoon apple cider vinegar
1/2 Teaspoon onion powder
1 Teaspoon granulated garlic
1 Teaspoon salt
1/2 Cup soy sauce
1/2 Cup Worcestershire sauce
1 Tablespoon brown sugar
2 Teaspoon black pepper
1 Teaspoon paprika
2 Teaspoon cayenne pepper
2 Teaspoon red pepper flakes
2 habanero peppers, minced
Directions:
With a sharp knife, slice the venison into 1/4 inch thick slices. Trim any fat or connective tissue.
Add all ingredients except venison to a bowl and whisk. Add venison slices and mix to combine.
Transfer contents of bowl to a large resealable bag and seal removing as much air as possible. Place in fridge to marinate overnight.
When ready to cook, set Traeger temperature to 180℉ and preheat, lid closed for 15 minutes.
Remove the venison from the marinade and discard marinade.
Arrange the meat in a single layer directly on the grill grate. For extra spicy jerky, sprinkle with more cayenne pepper, red pepper flakes and black pepper.
Smoke for 4 to 5 hours or until the jerky is dry but still chewy and somewhat pliant when you bend it.
Remove from grill and transfer to a cooling rack and allow to cool for 1 hour. Store in an airtight container or resealable bag in refrigerator. Enjoy!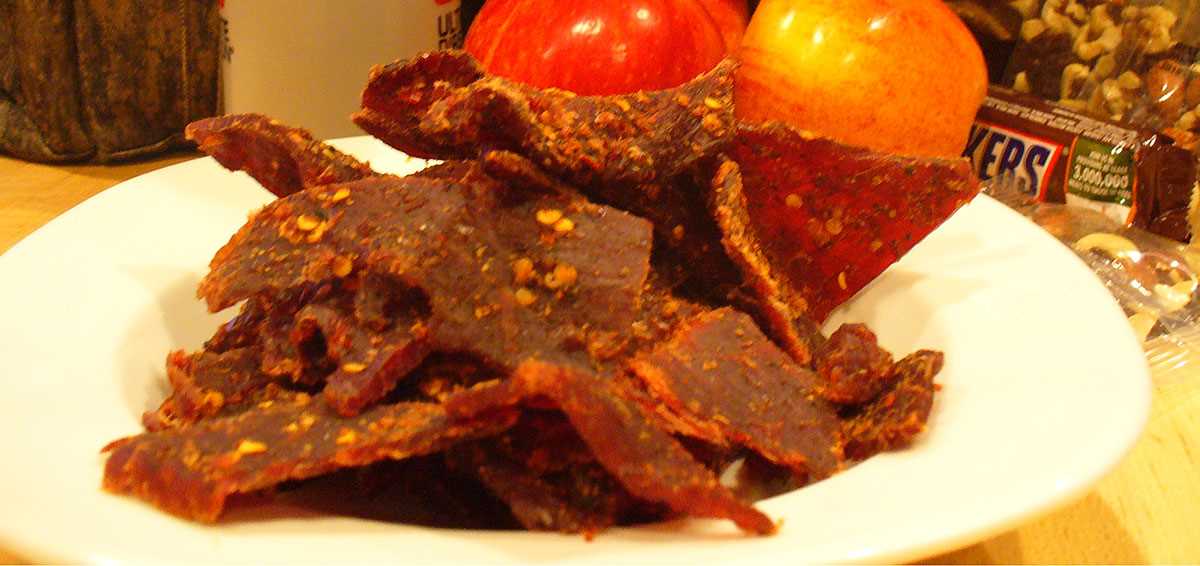 Any waterfowl can be made into jerky, but the process is an especially good way to handle large, adult geese, which can be tough when roasted or grilled.
Ingredients:
4 pounds (about 2 quarts) skinless goose breast fillets, trimmed of all gristle, fat, and silver skin
3 tablespoons coarse salt
1 cup brown sugar
1 cup water
3/4 cup soy sauce
1/2 cup Worcestershire sauce
2 tablespoons garlic powder
2 tablespoons chili powder
3 tablespoons coarsely ground black pepper
2 tablespoons red pepper flakes
Directions:
Cut the meat into 1/4-inch-thick strips. For chewier jerky, cut with the grain of the meat. For tender jerky, slice across the grain. For even more tender jerky, lightly pound the meat with a mallet.
Combine the remaining ingredients in a bowl and stir well to blend. Add the meat strips, cover, and refrigerate for 12 to 24 hours. Remove the meat from the marinade and dry on racks (baking racks work well) in the refrigerator for an hour. Place the strips in a 175-degree oven or smoker for an hour or until the internal temperature of the meat reaches 160 degrees. Lower the temperature of the oven or smoker to 140 degrees, and if you are using a standard kitchen oven, crack the door open about an inch to allow moisture to escape. A foil ball works well as an oven door stop. If using a smoker, open all the vents. After five hours, flip the meat strips over and heat or smoke them for another five hours or until they are thoroughly dry.
Package the jerky strips in vacuum-sealed zip-lock bags and freeze for up to a year.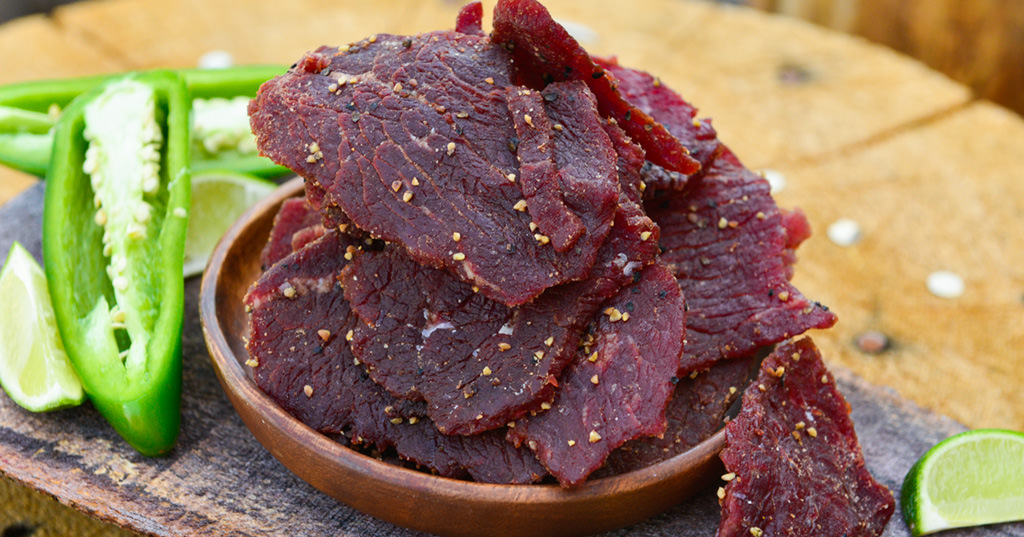 Antelope season is in full swing in Wyoming, so what a better way to celebrate than to share one of our favorite antelope recipes. If you're taking your antelope home with you to process yourself, we would highly recommend giving this method a try. This savory jerky recipe includes garlic and black pepper to complement the wood-smoked flavors.
Ingredients:
2 1/2 – 3 lb. venison roast
1 cup soy sauce
1/2 tsp. Prague powder #1
3 tbsp. brown sugar
1 tbsp. black pepper
2 cloves of garlic, smashed or minced
2 tbsp. red wine vinegar
1/2 tbsp. dried rosemary leaves
1/2 cup water
Directions:
Slice the meat against the grain between 1/8-inch and 1/4-inch thick. This is easier to do when the meat is chilled in the freezer for an hour or hasn't fully defrosted. Place all the sliced meat in a large, resealable bag.
If you have a mortar and pestle, smash the garlic cloves until you reach a rough paste. Mix the garlic with the water, soy sauce, pink curing salt (Prague powder #1), red wine vinegar, black pepper, and sugar until well blended.
Pour the liquids into the bag with the meat and mix to coat each piece on both sides. Marinate in the fridge for at least 12 hours and up to two days, tossing and mixing the bag periodically.
Prepare a smoker according to manufacturer's settings using your choice of wood. Pre-heat to 160 degrees.
Remove the meat from the marinade and squeeze off excess liquid. Lay each piece of meat on a metal grid or pizza screen. If you have the time and space, let the pieces air-dry for a few hours in the refrigerator so it will absorb more smoke.
Smoke the venison for 3 to 4 hours. It should be fully dry but still pliable. If your smoker cannot get below 180 degrees, you can opt to smoke for 1 hour to impart flavor, then switch to a traditional dehydrator set at 145 to finish. This will prevent the jerky from becoming bitter or too brittle
Once completely cool, store in an airtight bag for 1 to 2 months. The jerky can also be refrigerated for 3 to 6 months or frozen for a year.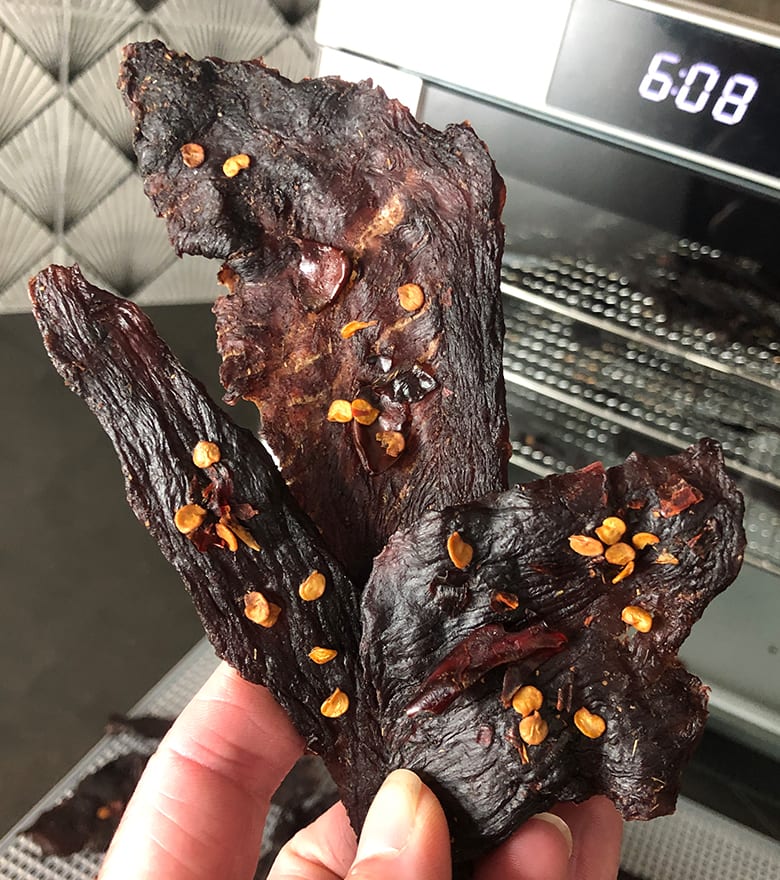 This simple wild game jerky marinade doesn't lack in flavor and is loaded with a powerful sweet-n-hot punch. The brown sugar delivers the sweet and the smoked serrano chile peppers delivers a smokey crisp heat.
Ingredients:
3 lbs elk or venison
1/2 cup brown sugar
1/4 cup soy sauce
1/4 cup worcestershire sauce
1/4 cup balsamic vinegar
1 tbsp granulated garlic powder
1 tbsp granulated onion powder
6-8 smoked serrano chile peppers, crushed
Directions:
Semi-defrost the elk or venison meat to allow for easier slicing. Using a sharp blade, carefully slice the strips of game meat to be roughly ¼ inch thick.

In a non-reactive bowl, combine remaining ingredients mixing well. Add the sliced meat to the marinade and stir to combine. Cover the bowl with plastic wrap or put in a Ziploc storage bag and seal. Refrigerate for 48 hours.

Drain the meat in a colander to remove excess marinade. Lay jerky slices on stackable trays allowing ½ inch of spacing between each one. Set the dehydrator temperature to 140 degrees Fahrenheit and dry for 3-4 hours. Check the jerky after two hours and rotate trays. Checking the jerky allows you to remove smaller pieces of jerky that will dry faster. Remove the jerky when done and store in an airtight container or paper bag.