As mentioned in the Wall Street Journal, Flathead Lake, with almost 200 square miles of surface area and 185 miles of shoreline, is the largest natural freshwater lake west of the Mississippi River — Yes, even bigger than Lake Tahoe! To our knowledge, Cromwell Island, with almost 350 acres and nearly three miles of shoreline, is the largest private island in freshwater west of the Mississippi River that is under a single ownership.
Like the cold, clear waters of Flathead Lake, mystique surrounds Cromwell Island. It overlooks the legendary Wild Horse Island, where Salish and Kootenai historically swam their horses to keep them safe from rival tribes. In the 1930s, construction started on a dam near Polson, Montana, at the outlet of the Flathead River. Prior to its completion, in periods of low water, Cromwell Island became a peninsula connected to the shore. It is all but certain that the Native Americans historically herded their horses onto this peninsula before swimming them across to Wild Horse. Today, Cromwell Island is a full-time island, the entirety of which is now for sale.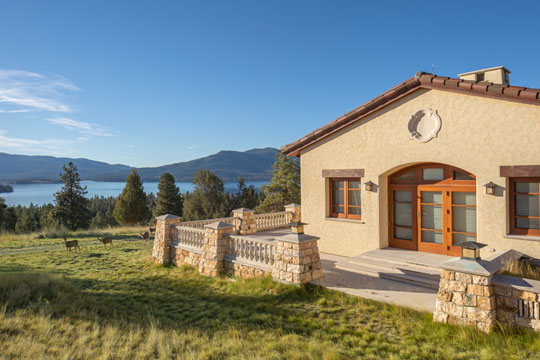 There are two primary structures, a main home and a guest villa, located on the island supported by a mountain of infrastructure. "The Villa", as it is called, was designed to resemble a 16th-century French architectural masterpiece.  Though unfinished, this 45,000+ square foot  structure is extraordinary in stature and style.  A short distance away, the Guest Villa is, in essence, finished. Though it is livable today and ready for occupancy, there are a few finishing touches that a new owner can style to their preference. It would be equally suitable for use as a caretaker's residence or a guest home.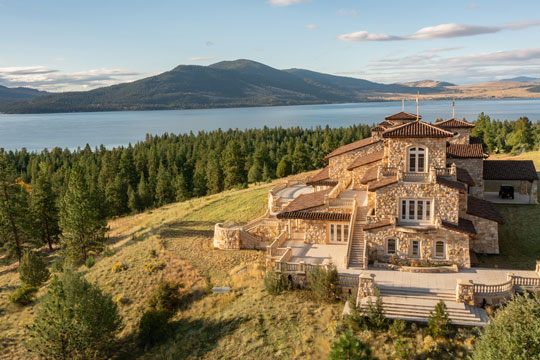 The boat dock has five slips varying in size. Originally built for a 65 foot yacht, the largest slip is believed to be capable of handling a yacht up to 70 feet. There is an underground shooting range located in the area of the main villa that accommodates targets up to a 100 yard distance.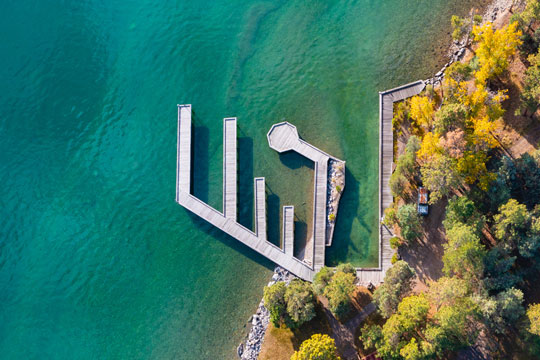 The ranch is home to a herd of mule deer and is often visited by others that swim across the channel. Wildlife cameras stationed on the island have captured images of bear, fox, and mountain lion. Bird species are plentiful, including raptors, waterfowl, and at least one game species: Hungarian Partridge (commonly known as "Chukar").  The fishing is superb with Lake trout the targeted species but within Flathead Lake's depths are also pike, perch, whitefish, kokanee, salmon, rainbow trout, and some bull trout.
Cromwell has a front row seat for Wild Horse Island, with its closest shoreline being only 2,500± feet away from Cromwell Island. A spotting scope mounted on a tripod is a great way to view the Wild Horses that still live there as well as some world record Bighorn Sheep.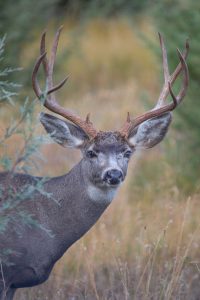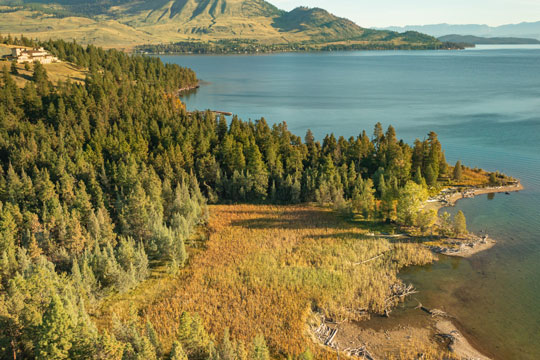 An island offering is always unique. An offering to own the largest wholly owned private island in freshwater west of the Mississippi River is near fantasy. Cromwell Island, while planned as a personal residence, could be equally well-suited for development or a private club.
Please contact Hall and Hall Partner, Bill McDavid to discover if owning a private island is the right fit for you.