Dedicated to Land and Landowners since 1946.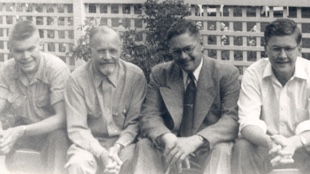 The year was 1946—a time when our soldiers were returning home from war. The United Nations held its first general session. The movie "It's a Wonderful Life," had just been released. And Roy Rogers was riding tall in the saddle and in the hearts of people across the country.
This was also a time for new adventures– and new business opportunities. Henry Hall and his son, Warren, founded Hall and Hall Mortgage Company as the exclusive correspondent for the Connecticut Mutual Life Insurance Company, a major lender to the agricultural community. Traversing the vast landscape of the West and carrying his bedroll, a forty-five pistol, and a stack of loan applications on the seat beside him, Henry developed close business and personal relationships with the hard-working ranchers and farmers he met along the way.
Early friendships were built on trust, good advice, and being there to lend a helping hand. And the basic principles of integrity, fairness, and hard work were woven into the fabric of everything we do.
Now well into our third generation of operation, Hall and Hall continues to embrace the original principles our founders established.
Today, Hall and Hall remains an employee-owned company with an unusual partnership structure that results in a team-based approach that successfully connects buyers and sellers and enhances the owner's experience.
Our proactive marketing initiatives encompass everything from web and print advertising through public relations and good old-fashioned handshakes. 
Whether you need an experienced manager, a financing expert, or a buyer who finally understands the true value of your property, our network of personal and professional relationships is unmatched in the business.
We have more than seventy years of experience offering a full complement of services designed to meet your needs: real estate marketing, farm and ranch management, mortgage banking and loan underwriting, real estate appraisals, and auction services.
And we know that decisions made now will affect the future of your investment, and we consider it part of our core mission to promote prudent land stewardship, responsible lending practices, a stable, non-speculative real estate market, and a long-term perspective on business and relationships.
It Starts with the Land, but Ends with You.
Since our founding, Hall and Hall has specialized in serving the owners and prospective owners of quality rural real estate by providing mortgage loans, appraisals, land management, auction and brokerage services within a unique, integrated partnership structure. Our business began by cultivating long-term relationships built upon personal service and expert counsel. We have continued to grow today by being client-focused and results-oriented— because while it all starts with the land, we know it ends with you.
The Most Unique Model in the Industry
Unlike most real estate companies, Hall and Hall offers a team-based, fully integrated approach to the strategic marketing of investment quality rural real estate. Our unique partnership structure—which brings together the most experienced and knowledgeable team of farm, ranch and land brokers ever assembled—provides clients the focused attention of an entire team. For every listing and every sale, we bring to bear this powerful network in a way that is fully transparent and completely comprehensive, leaving no stone unturned to reach a positive outcome.
Our partners have personal experience derived from actually working and owning farms and ranches. We bring credibility and understanding to every transaction. Whether it's a discussion about the latest cattle prices or which fly best matches the evening hatch, we are equally engaged.