For Sale
O X Ranch
$22,000,000
Yavapai and Coconino Counties, AZ
2,276± Deeded Acres
Executive Summary
The O X Ranch is a beautiful desert ranch, highly improved for an efficient livestock operation. The headquarters is situated in a lush valley surrounded by desert mountains. It is uniquely located close to the cowboy atmosphere of Wickenburg, which has all the amenities of a small town and is isolated enough for the quiet enjoyment of the desert scenery. The combination of range land and irrigated pastures allows great flexibility for a cattle or horse operation. The headquarters site has been studied as an ideal location for a resort operation utilizing the vast expanse of the ranch property for recreation, scientific studies and horse and cattle experiences.

The Little Horse Ranch (included as part of this sale) adds to the O X Ranch with summer grazing for a substantial portion of the O X calf crop, increasing the flexibility of the overall operations and expanding the marketing opportunities for the ranch calves. The high pine country of the Little Horse Ranch is a pleasant summer experience, close to Flagstaff, Arizona with Northern Arizona University, FAA-manned public airport, golf courses, museums and activities.
Save Property
Download Brochure
Just the Facts
65,232± total acres at O X Ranch at Congress
29,057± total acres at Little Horse Ranch at Munds Park
1,171 AU at O X Ranch and 170 AU at Little Horse Ranch
189± acres developed for irrigation
State and BLM grazing leases plus a U.S. Forest Allotment
Seven homes, working facilities, and seven corrals
Combination of range land and irrigated pastures
Large variety of native grasses, shrubs, and trees
13-acre stocked lake with water provided by Billingsley Spring
Abundant water resources including 3 perennial springs and 29 wells
Fenced and crossed fenced
25 large pastures, 29 small pastures and 11 water traps
Equipped to accommodate multiple herds and pasture rotation plan
700 cattle plus their offspring and equipment included in price
General Description
The 140-year-old O X Ranch is regarded by many as the finest desert ranch in the Southwest. The elevation at the O X Ranch headquarters is 3,126 feet ASL. The O X Ranch range lies from 3,000 feet on the lower end to about 6,000 feet on the Weaver Mountains on the east side of the ranch. The Little Horse Ranch lies from 6,700 feet to 7,500 feet ASL.

Vegetation
The O X Ranch has a variety of grasses, shrubs and trees. Along the riparian areas are cottonwoods, willows, hackberry and sycamore trees. The rangeland has a variety of native grasses depending on elevation, including gramma grasses, Arizona cotton top, love grasses and three awns. Browse include mesquites, palo verde, range ratany, Mormon tea, and cactus such as prickly pear, cholla and Joshua trees.
Location
The O X Ranch is located north of Congress, Arizona, and 14 miles north of Wickenburg, Arizona. The headquarters is located 8.7 miles north of Highway 89 on Yavapai County Graded Road #62, known as Date Creek Road, then 2.75 miles west on the O X Road to the headquarters.

The Little Horse U.S. Forest allotment is located just south of Flagstaff on both sides of Interstate 17 from Munds Park north to the Kachina/Mountainaire Exit #333.

Airports
The O X Ranch is located within driving distance of airports in Wickenburg and Phoenix. Wickenburg Municipal Airport is a public-use airport with a 6,100-foot lighted runway capable of handling both small and large aircraft such as the Gulfstream IV. The airport has both AVGas and Jet A fuel available. Phoenix Sky Harbor International Airport, a full-service airport with non-stop and connecting flights to more than 80 domestic and 20 international destinations, is about an hour-and-a-half drive from the ranch. The Little Horse Ranch is also within driving distance of two smaller airports. Flagstaff Pulliam Airport has a 8,800 ft. runway with commercial air service provided by American Airlines. Sedona Airport is a small non-towered airport with a 5,129 ft runway accommodating smaller business jets and aircraft.
Locale
Resting on the northern edge of the Sonoran Desert, the Wickenburg area's natural beauty and resources are characterized by saguaros, shadow mountains, lush deserts and geological formations which have attracted native peoples, explorers and settlers for centuries. The Hassayampa River flood plain has provided fertile soil for farming since the days of the western Yavapai, who for centuries irrigated their crops of corn, beans, squash, and tobacco with river water. The Wickenburg area, along with much of the Southwest, became part of the United States by the 1848 treaty that ended the Mexican-American War. An 1862 gold strike on the Colorado River inspired prospectors and miners, predominantly from California and Mexico, to search for minerals in central Arizona. Numerous mining relics remain present today offering a glimpse of these pioneers whose legacy inspires much of the lore of the region. Spurred further by the continued migration of settlers, including Henry Wickenburg, the fledgling community of Wickenburg was founded in 1863.

After incorporating, the first few decades were turbulent, embroiled by Indian wars, a shrinking mining industry, and natural calamities. Yet the spirt of the West prevailed, growth continued, and with the establishment of the railroad in 1895, Wickenburg solidified its future prosperity. The downtown district today displays the old-world charm as beautifully constructed storefronts remain intact, serving as an homage to their rich history. Given Wickenburg's natural allure, characterized by temperate climate, grand vistas and open range, the last century has seen a resort and recreational mecca take its place along the desert plateau. A wellspring of traditional guest ranches offering a unique western experience to tourists has become a staple here. The Bar FX Ranch became the first true guest ranch in 1923, followed by the Remudas, Kay El Bar, Rancho de los Caballeros and Flying E ranches. After Highway 60 was built, connecting Phoenix to California, tourists flocked to the area and Wickenburg became known as the Dude Ranch Capital of the World. True West Magazine has recognized Wickenburg among the 10 best Western towns in the world. With over 600 businesses providing a full range of accommodations, services, shopping and conveniences, one has an endless array of choices to experience the west as it was, or what it has grown into today.

Flagstaff, AZ
Located in central Arizona is the quaint town of Flagstaff. A four-season community, characterized by small town charm and endless outdoor adventures, Flagstaff has become a premier destination location. For those seeking culture and history, individuals can experience Route 66 nostalgia, numerous museums, and attractions dedicated to Native American culture and Old West legacy. A thriving local economy also provides an array of locally owned shops, restaurants and galleries in historic downtown. Flagstaff is also a haven, lying in the midst of the world's largest ponderosa pine forest, attracting outdoor enthusiasts year-round with its panoramic vistas and fresh mountain climate. Top activities include hiking, mountain biking, disk golf, camping, boating, rock climbing and skiing. Set within striking distance of some of Arizona's premier recreational sites, such as the Grand Canyon, seven national parks and monuments, Flagstaff offers something for everyone.

Sedona, AZ
Claiming the number-one spot on USA Weekend's Most Beautiful Places in America, one can only be in awe of this place. A renowned geological wonder residing on the high desert floor, this place is home to mesmerizing multi-hued stone formations casting varied brilliance by the changing light. Surrounded by 1.8 million acres of national forest land, patrons have convenient access to endless recreational activities. Innumerable established trails for hiking, biking and jeep tours provide hours of secluded time off the beaten path. Recognized as a "sacred" place of healing and spiritual renewal, Sedona is a coveted resort destination. In town, visitors can indulge in relaxing treatments from spa facilities, take an "Art Walk" through 40-plus art galleries, or spend an afternoon touring and tasting the wine at a local vineyard.
Climate
Arizona is known for 300± days of sunshine on average. The annual rainfall reported at Congress on the south end of the ranch is 11.97 inches. The moisture comes in two cycles, one from thunderstorms created by moisture coming up from the Gulf of Mexico in July, August and September and another created by winter storms coming from the California coast during the late winter and early spring. Even when the early mornings begin crisp, as late morning approaches and gives way to afternoon, temperatures rise, becoming delightful, making the climate ideal for year-round outdoor living. 
History
For over 140 years the O X Ranch has indeed been a witness to history. Since the 1860s, the O X Ranch has not only provided a livelihood for farmers, ranchers, and Native Americans, but has also been the site of some significant events in the history of Yavapai County. These include an Indian massacre, a train wreck, the founding of a gold mine, a visit by a U.S. president, shootings, and a murder. There are historical references to the O X brand as early as 1883.

The ranch was originally comprised of numerous homesteads, but by 2008 had grown to approximately 65,000 acres. It is primarily Arizona State Trust Land with a number of private parcels scattered throughout. The headquarters has a large spring and lies at the convergence of three perennial streams, appropriated by the homesteaders in the 1860s and 1870s. These sources of water contributed to the area's use by Native Americans, as evidenced by a number of petroglyphs on the cliffs, and the large number of Indian pots and arrowheads found by earlier residents. This area was called Date Creek Valley, with fields leveled for irrigated crops. 

Looking back, the location of the ranch was very important during the 1860s as prospectors came into Arizona looking for gold. Water was key to the safe passage of travelers through the desert. Due to its location between Ehrenberg, on the Colorado River, and Prescott, the three creeks provided a critical water source. One of the principal wagon trails from California went directly through the current headquarters, and the ranch was the site of two stage stops and a US government military camp.

Several early descriptions of the area exist. Lewis Kingman, a railroad engineer, described his trip across the desert as follows: "As is commonly known, this region is one of the most forbidding of deserts and fraught with hardships." Kingman went on to say, "It was by rare good luck that a ranch was found on Date Creek. We bought corn for the horses for 8 cents per pound".

One of the first known descriptions of the headquarters was by Charles Genung, who eventually settled in Peeples Valley, AZ and was a respected citizen of the state. He was a member of a group traveling on the trail from La Paz to Prescott in 1863. Upon topping a hill, he looked down on an oasis with water flowing and Indians camped on the banks. This area was what is now the headquarters of the O X Ranch. He wrote in his notes that, "I feasted my eyes on fields of meadow grass and flowers which grew belly-high, and groves of walnut trees and great cottonwoods." One of the members of his party was reported to exclaim, " My God, we've found the Garden of Eden!"

When one sees the O X Ranch now, the Date Creek Valley is once again the oasis seen by early settlers, with trees, green grass and flowers. The effort put forth over several generations has resulted in healthier pastures, the ability to pick a fresh peach from the orchard, or a rose from the bushes along the road. While not being the "Garden of Eden" as Charles Genung's friend remarked in 1883, it is an oasis enjoyed by those who live there, as well as by people who come and learn about ranching and the importance of a healthy environment.
Acreage (Deeded & Leased)
Deeded Acres: 2,276±
State Leased Acres: 52,567±
Private Leased Acres: 9,095±
BLM Leased Acres: 1,371±
Other Leased Acres: 28,980±
Total Leased Acres: 92,013±
Total Acres: 94,289±
Lowest Elevation: 3,000
Highest Elevation: 6,000
Acreage Breakdown
Acres of Irrigated Crop: 120±
Acres of Dry Crop: 80±
Acres Range: 95,000±
Acres AG Total: 95,200±
* All acreages are approximations.
Additional Information
The ranch is served by Arizona Public Service electricity. Century Link telephone service is used at the JF headquarters.  Verizon wireless phone service is available at the main headquarters and on most of the ranch. Propane is available from several suppliers and delivered to the ranch.

Conservation and Restoration
Working to improve the rangeland and monitor all aspects of the environment has been an ongoing effort. Projects with the University of Arizona, Natural Resource Conservation Service, US Fish and Wildlife Service, US Department of Agriculture, and the Farm Service Agency have all made significant improvements to the land. Utilizing the Partners for Fish & Wildlife Program of the US Fish & Wildlife Service, trees were planted around the lake – now a haven for birds. Numerous other trees were planted along the fields to provide shade. 

In a project with the Arizona Game & Fish Department, two beaver were placed in Date Creek. Their dams raised the water table, encouraged seed germination, and resulted in one-half mile of new cottonwood and willow trees, as well as a healthier riparian area. Working with NRCS, a number of tamarisk trees – an invasive species – have been eliminated.

Investment Considerations
The O X Ranch is not only recognized by cattlemen as the finest desert ranch in the state of Arizona, but it offers numerous unique features which are of particular interest to the following buyers: 

Investors
The 2,200± deeded acres at the main headquarters provide an investment opportunity far greater than its value as a cattle operation.  The highest and best use for the headquarters has been identified by those with expertise in the resort industry as an ideal location for one or more high-end resorts together with complementary high-end low-density residences.  Among the reasons for the conclusion are the following:
The three perennial streams and associated lush riparian areas 
The spring which produces more than one-half-million gallons of water per day
The 13± acre lake which provides for fishing, boating, swimming, and water skiing
A tree-covered island with its own boat dock
Over 100 acres of irrigated green pastures
An orchard which produces peaches, peas, apricots, apples, nectarines, walnuts and almonds
A climate which is ideal for vineyards and numerous specialty cropsIdeal weather
Proximity to famous high-end resorts

Second Home Buyers
For many generations, the nearby town of Wickenburg, known as the "Dude Ranch Capital of the World," has been a haven for many famous families including the Rockefellers, Wrigleys, Cabots, Carnegies, Astors, Vanderbilts and Pews.  United States Presidents including Kennedy, Roosevelt, Harding, Hoover and Wilson have also spent time at resorts in the Wickenburg area.  Many successful business men and women, and their families, have chosen to build their retirement homes in Wickenburg.  This has resulted in the construction of a symphony hall, the world-famous Los Caballeros Western Art Museum, and an airport which can accommodate large private jets. The ideal fall, winter, and spring weather also adds to the appeal of the area. 

Golfers
Wickenburg currently has three excellent golf courses, one of which is only eight miles from the O X Ranch.  Within forty miles of Wickenburg are approximately 40 additional golf courses.

Ropers
Within the last several years, Wickenburg has also become the "Roping Capital of the World" with six roping arenas, and ropers from all over the United States and Canada.  As owners of the O X, you can prepare for this competition in your own arena and in your own round pen, both of which are located at the O X main headquarters.

Active Adults, Children and Grandchildren
The ideal weather at the O X makes it possible to enjoy the numerous special activities available including:
Swimming
Boating
Fishing
Petroglyph viewing
Off-roading
Birding (the Audubon Society has identified 180 species, and many others have been observed)
Wildlife viewing (deer, elk, coyote, bear, fox, javalina, beaver, wildcat, mountain lion, badger, desert tortoise, rabbit, quail, eagle, sandhill crane, blue heron and osprey)
Hunting
Hiking
Rock climbing
Collecting artifacts
Picking fruit in the orchard
Collecting mineral samples
Picking cactus fruit
Enjoying desert wildflowers
Photographing magnificent scenery
Horseback riding
Gardening
Prospecting (numerous abandoned mining claims exist on the O X Ranch and in the surrounding areas)

Pilots
The O X headquarters not only has a lighted FAA-approved heliport, but Wickenburg has a municipal airport which can accommodate the largest private jets and offers jet fuel.  For those flying into one of the various Phoenix airports, the O X Ranch is approximately a 90-minute drive from such airports.  Helicopter transportation from these airports is also available. An abandoned dirt airstrip is located on public land within one mile of the main headquarters and it may be possible to improve this strip if so desired.

Little Horse Ranch - Supplemental Summer Grazing
Supplemental summer range, known as the Little Horse Ranch, is located in the Coconino National Forest located along Interstate I-17 between Flagstaff and Sedona.  The Little Horse Ranch not only provides summer range for a large portion of each year's calf crop, but it also possesses a number of special attributes including the following:

Accessibility
The Flagstaff Airport is within four miles of the Little Horse Ranch and the Sedona Airport is approximately ten miles from the ranch. The I-17 freeway runs through the ranch and provides access to Phoenix in less than two hours.

Weather
During the five-month summer grazing season the weather is ideal, which explains the many summer homes, golf courses and country clubs in Flagstaff.

Social Life
Sedona is famous for its stunning red rock, and has numerous luxury resorts and a unique highly educated and wealthy population of retirees. As a result, it has numerous fine restaurants and social events. Flagstaff is the home of Northern Arizona University and the gateway to the Grand Canyon.

Fishing
Mountain stream fishing in Oak Creek Canyon and lake fishing in Lower Lake Mary are each within four miles of the O X Ranch.

Golf
Both Flagstaff and Sedona have numerous golf courses and country clubs, two of which are contiguous to the Little Horse Ranch.
Improvements
O X Ranch
O X Ranch Headquarters
The O X Ranch has a full complement of established facilities located at the headquarters compound. With four homes and working facilities, the headquarters is well equipped for a turn-key and productive operation. 
Housing
Owner's or Manager's House: five bedrooms, four baths, two offices
Bunkhouse: three bedrooms, two baths
Caretaker's House: two bedrooms, two baths
Owner's or Manager's House: two bedrooms, two baths, one office
Two other houses at various locations throughout the ranch
Facilities
One barn and one covered horse shed with stalls
Plumbing shed
Chicken shed
Shop equipped with numerous hand and power tools and stocked with extensive plumbing, automotive and equipment parts
 Plumbed outhouse with a picture window
Refrigerated walk-in freezer
Working corrals: Pipe and sucker rod corrals with hydraulic cattle chute, scales, round pen and roping arena
FAA-approved lighted heliport
JF Headquarters
The JF headquarters is a small piece of deeded land on the southeast end of the ranch, just off Highway 89.
Housing and Facilities
A three-bedroom, two-bath home
Barn, shed, working corrals
Little Horse Ranch
The 29,097± acre Little Horse Ranch is located in the pine-covered country along the I-17 Freeway beginning three miles south of Flagstaff, Arizona. Facilities are available for use on deeded/leased lands.
Facilities
Eight separate well-watered fenced pastures which accommodate a rotational grazing program, four holding pastures and two loading facilities. 
Water Resources
The O X Ranch is blessed with abundant water – a rare commodity for Arizona ranches. Three perennial streams converge at the O X Ranch headquarters.

Billingsley Spring produces approximately 350 gallons of water or more per minute which is transported by a 12-inch underground pipe to a 13-acre lake stocked with bass and bluegill. The lake is bordered by large cottonwood, willow and sycamore trees. This lake also contains two docks, an island, and several boats including a 12-seat pontoon ski boat.

The three perennial streams that converge at the headquarters, together with a spring that produces several hundred gallons of water per minute, a 30-foot water table, and a 13± acre lake make it possible to preserve the headquarters as a verdant and productive oasis in the desert - an oasis that is protected by more than 2,000 acres of deeded land. 

There are three wells at the O X Ranch headquarters that are used for irrigation, in addition to Billingsley Spring. The depth to water at the headquarters is about 30 feet. There are a total of 29 wells around the ranch, 20 of which are solar powered and 9 powered by a public utility company. There are two public utility meters providing water from the town of Congress. The wells serve about 43 miles of water lines with 26 water storage tanks and 138 metal, concrete or poly cattle drinkers. There are 57 stock ponds and several small springs on the ranch.
Taxes
Real estate taxes are approximately $4,799 based upon previous years.
General Operations
Livestock
Currently there are 700 cattle plus their offspring, which is the historic use by the owners, on the ranch. The livestock on the ranch are included in the price of the ranch and a complete inventory will be available to a buyer prior to closing.

O X Ranch - Carrying Capacity
Deeded Land - 360 AU
State Grazing Lease - 677 AU
BLM Grazing - 13 AU
Private Leases - 121 AU
Total - 1,171 AU 

Little Horse Ranch - Carrying Capacity
June 1 – October 31 - 165 AU or 1,975 AUM for 395 yearlings
Private Lease - 5 AU
Total - 170 AU
*Potential carrying capacity assumes returning all fields to irrigated cultivation.

Equipment
There is a full complement of farm equipment, ranch trucks, livestock trailers, irrigation equipment, pumps, motors and tools necessary for the ranch operation. The equipment on the ranch is included in the price of the ranch. A complete inventory will be available to a buyer prior to closing.

Pastures
The O X Ranch is fenced and cross fenced into 25 large pastures and 29 smaller pastures at the headquarters, plus 11 water traps. There are seven working corrals scattered around the ranch that are pipe and sucker rod construction. The O  X Ranch is equipped to accommodate multiple herds on an extensive pasture rotation plan.

Irrigated Land
The deeded land along the bottom of Date Creek at the headquarters is irrigated from a spring and three irrigation wells. Approximately 109 acres are flood irrigated and 80± acres have been irrigated by sprinklers, of which 78± are not currently connected to a water source. A total of 189± acres are developed to irrigation. There is more ground that could be developed to pasture with additional wells. The crops grown on the property include alfalfa, bermuda, winter wheat or rye and pasture mixes for grazing. The area is suitable for corn, beans, and other row crops as well as grapes, pecans, pistachios, apples, apricots and other fruit trees.
Grazing Resources
The State of Arizona Grazing Lease is a 10-year lease. The O X Ranch State Lease #05-111 began September 24, 2010 and ends September 25, 2020. The lessee owns all the improvements on this lease that have been approved by the State Land Department. State grazing leases are renewed for subsequent 10-year periods upon application by the lessee. The BLM Grazing Allotment #05049, Grantham Bros. is issued for a 10-year term that began March 1, 2012 and ends February 28, 2022. BLM permits are renewed for a subsequent 10-year period upon application by the lessee. The U. S. Forest Allotment Casner Park/Kelly Seeps, #01272, is issued for a 10-year term that ends December 31, 2018. Forest allotments are renewed for a subsequent 10-year period upon application by the lessee. Grazing Lease - Monthly / Annual - Fee 2016 State of Arizona Grazing Fee - Monthly - $3.45 AUM State Grazing Lease in 2016 - Annual - $28,027.80 for full use 2016 BLM Grazing Fee - Monthly - $2.11 AUM BLM Grazing Lease - Annual - $329.16 U.S. Forest Service annual grazing fee - Monthly - $2.11 AUM U.S. Forest Service permit - Annual - $4,167.25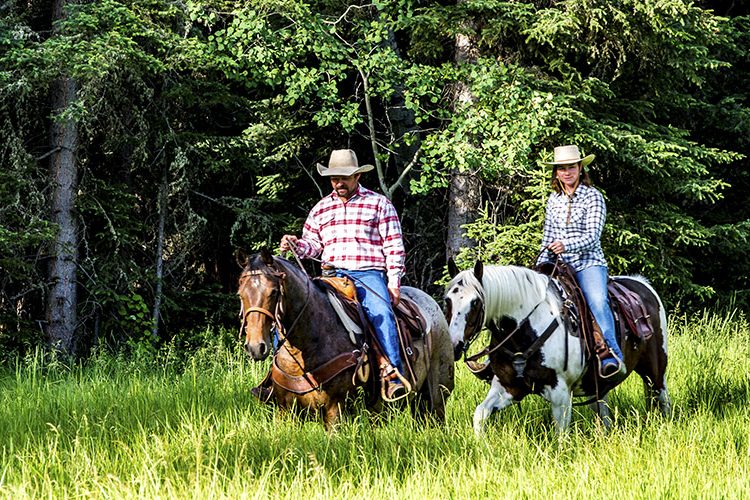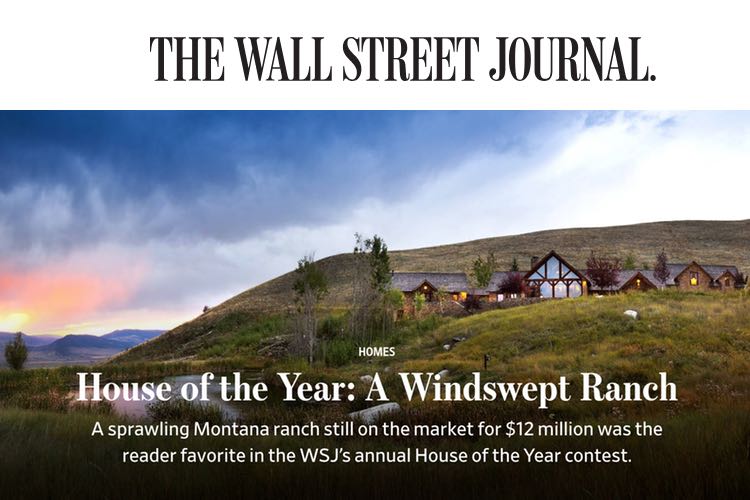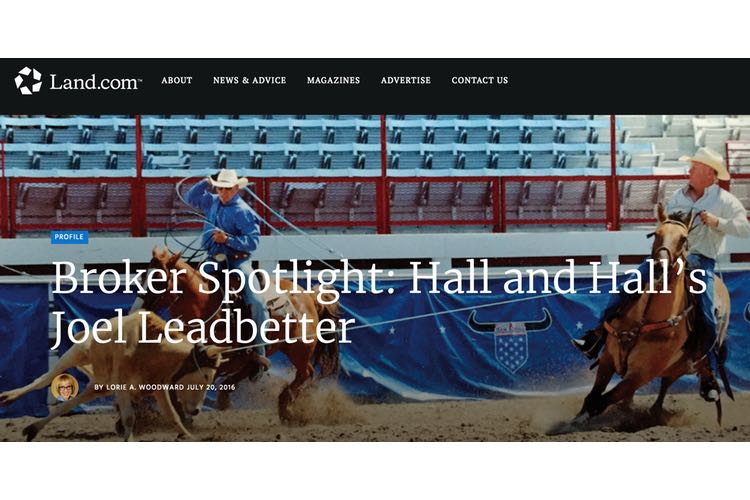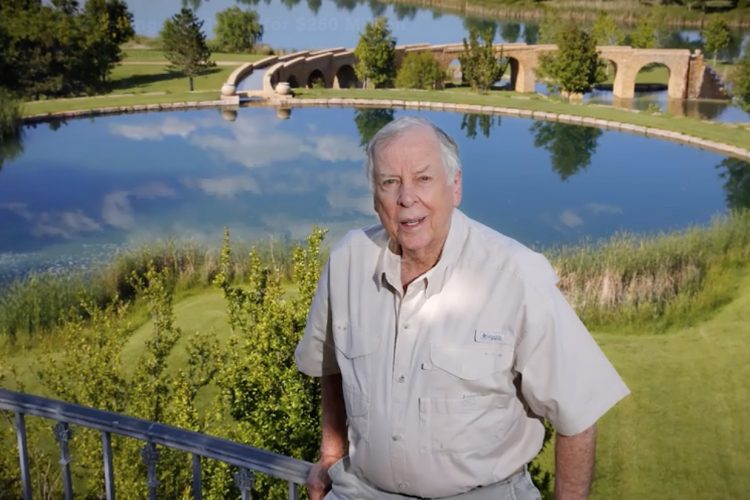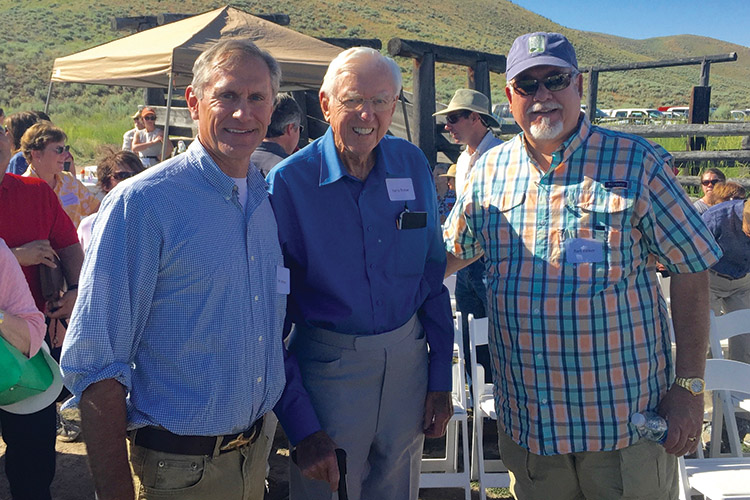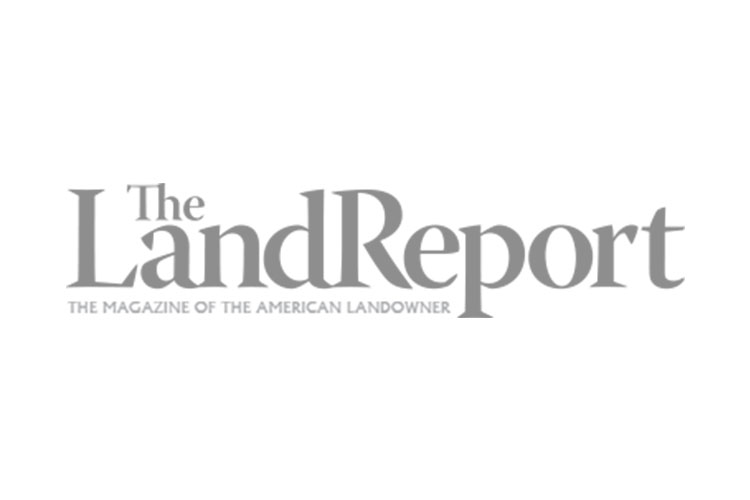 "When it was time to invest in a ranch for our family, we knew we needed to work with Hall and Hall. The expertise is unsurpassed."
In 1988, Joel Leadbetter became a partner at Hall and Hall where he has been instrumental in completing complicated, high-profile deals such as the recent sale of Texas' historic 512,000-acre Waggoner Ranch.
"The professionalism, preparation, and overall positive demeanor exhibited… were truly impressive… I have never before worked with a more dedicated, knowledgeable, and level-headed sales professional."
America's Best Brokerages