For Sale
South Mill Ranch
$7,500,000
Tubac, AZ
2,665± Deeded Acres
Executive Summary
The South Mill Ranch consists of 2,665± deeded acres that occupies a substantial part in its own valley protected by the San Cayetano Mountains which rise 2,000 feet above the ranch to 6,000 feet on the west. The 8,000± acre Sonoita Creek State Natural Area borders the ranch on the south, and natural geography including the Grosvenor Hills are on the east. The Santa Rita Mountains are just to the north, rising over 9,800 feet. The ranch lies 18 paved miles southeast of Tubac behind a private entry gate and just over an hour's drive south of the Tucson International Airport. The adobe style ranch improvements are impeccable and include a magnificent owner's residence, an equally attractive but smaller guest house, the rock house and a stable complex. The ranch is well watered and offers incredible vistas, dramatic terrain, extensive wildlife and complete privacy.
Save Property
Download Brochure
Just the Facts
2,665± deeded acres

Located 18 paved miles southeast of Tubac and an hour from Tucson

All new and tastefully designed adobe-style houses and stables

5,056± sq. ft. main home, 3,182± sq. ft. guest house and 648± sq. ft. rock house

End-of-the-road privacy situated in its own private valley tucked under high mountains

Abundant wildlife including big game and three species of quail

Excellent water including three wells, springs and ponds

Access to private water company line through ranch

Convenient access to charming 250-year-old artist community of Tubac, with 27-hole championship golf course and spa
General Description
After passing through the Morning Star Ranch where, due to the careful placement of the building envelopes one is hardly aware of any structures, one pops over a low ridge and looks out over a dramatic desert landscape which drops gently to the south through a series of steep ravines and open grassland for approximately 2.5 miles until it hits the Sonoita Creek State Natural Area on the south boundary of the property. 
To the west the skyline is dominated by the San Cayetano Mountains which include approximately 1,000 acres encompassing the eastern facing slope that seller intends to protect from future development ensuring that this dramatic vista will always remain unspoiled. The more distant eastern skyline also includes a dramatic series of mountains. The feeling of privacy is almost overwhelming. The three homes and the stable facilities are within reasonable proximity to each other near the entrance to the property but they are sited so that they do not interfere with their respective views.
Broker's Comments
As a purveyor of what we term "Investment-Quality Rural Real Estate," we are always on the lookout for unique and special properties that have broadly desirable intrinsic qualities that give them a value that will endure the test of time. When we find such a property and it is available for sale, we are proud to bring it to the marketplace. When we heard about South Mill Ranch, we were literally on the next plane down to visit it. It represents the very best of a class of property we refer to as a "retreat." In the case of South Mill Ranch, like the best of properties in this class, one owns significant enough private acreage to control one's destiny (and one's viewshed), to maintain an agricultural status, and to have space to ride and walk and hunt or whatever one might choose to do. It is dramatically beautiful and diverse. It enjoys a wonderful climate for most of the year and has easy access to the charm and amenities of Tubac – a town that has a unique history going back over 300 years - as well as a commercial airport within an easy drive.  Needless to say the improvements were thoughtfully designed and ready to be occupied. 
Location
The South Mill Ranch is accessed off Interstate 19 south of Tucson at Tubac. From Tubac one drives just under 18 miles on paved county roads to the private gated entrance of the Morning Star Ranch. One drives through Morning Star Ranch for just under 4 miles on a private paved access road to reach the South Mill Ranch. The Morning Star Ranch, of which South Mill Ranch was once a part, is described as follows: 
"The original designers of Morning Star Ranch envisioned an enclave of private ranch estates, set against a dramatic backdrop of mountains, rock formations and luxuriant rolling desert. Morning Star has fulfilled this original vision … and more." This private access road is shared by the successful Morning Star development where numerous high-end homes and building compounds have been built in discrete and secluded settings on 36-acre parcels.  One then passes over a ridge and enters South Mill Ranch. The paved road continues to the various ranch improvements. 
Locale
The immediate neighbors include the above described Morning Star Ranch to the north. The Sonoita Creek State Natural Area lies to the south. It is home to southern Arizona's largest lake – Patagonia Lake – which offers fishing, sailing, water skiing and other water-related activities. The Natural Area is primarily accessible – except for the lake - on foot and horseback on the south end. South Mill enjoys rare private access from the north which makes it a virtual extension of the ranch. There is a large operating ranch to the east. 
Tubac is the dominant community in the area and immediate and easy access to it is, in our opinion, one of the primary selling points of South Mill. Tubac is described as a place where "art and history meet." It lies along the Santa Cruz River in one of the few spots left where the river's natural riparian habitat has been protected.  
It has been home to Native American populations – most recently the renowned Apaches as well as the more peaceful Pima Indians – for at least 10,000 years. Its history since the arrival of Europeans goes back to the early Spanish explorers looking for the legendary "Cities of Gold." Vasquez de Coronado passed through in 1540. Arriving in 1691 with a mission to convert the natives, Padre Kino, a Jesuit monk, built a string of 22 missions. 
From that point Tubac enjoyed a series of "firsts." In 1752 a presidio named The Royal Fort of San Ignacio de Tubac became the first permanent European settlement in modern Arizona. In 1789 the Otero Ranch just north of Tubac became the first land grant in Arizona. In 1856, after some difficult times, Tubac experienced a renaissance due to mining. During that period it became the largest city in Arizona Territory, building the first school and publishing Arizona's first newspaper. 
Its modern history as an artist colony began in 1948 when Dale Nichols built an art school there. The town and surrounding land owners have built and supported the Tubac Center of the Arts, which was recently expanded in 2012. 
In 1952 Tubac enjoyed another first as the Tubac Presidio State Historic Park became the first State Park in Arizona. It is now a charming town on the banks of the Santa Cruz River with many galleries and shops, as well as restaurants and other more basic services. The community has come together to deal sensibly with the inevitable growth while maintaining its charm and culture.
No discussion of the locale would be complete without a paragraph dedicated to the Tubac Golf Resort and Spa. Situated on the old Spanish Land Grant Otero Ranch just north of Tubac, it boasts a championship Red Lawrence designed golf course offering 27 holes of outstanding golf. The movie Tin Cup was shot on the course and gave it some notoriety. The spa and luxury accommodations, including excellent dining, are an attractive nearby source of enjoyment and entertainment for an owner of South Mill Ranch.  
Climate
At around 4,000 feet in elevation, the South Mill Ranch enjoys an idyllic climate for about eight months of the year. There is a period during the summer when temperatures get up into the 90s and there is humidity due to the monsoonal rains. The ranch is high enough to avoid the soaring temperatures one hears about in Phoenix. The fall, winter and spring are pretty perfect with comfortable daytime temperatures and cool nights.  
Acreage (Deeded & Leased)
Deeded Acres: 2,665±
Total Acres: 2,665±
* All acreages are approximations.
Additional Information
The South Mill Ranch is being offered for sale by the developer of the Morning Star Ranch. He has determined that the southern 47 lots (1,700± acres) together with the magnificent improvements he has constructed for his own use, stand alone as a separate and very private ranch. The additional 1,000± acres being offered that adjoin it include a dramatic mountain face that is in everyone's viewshed and should never be developed. It is not a part of Morning Star Ranch. Subject to a buyer's wishes, the seller intends to sever the 1,700± acres from the development while retaining utility and access easements across the development in return for agreeing to share in the road maintenance and agreeing to not allow any development on the 1,000± acres. This creates a simple and effective break and leaves a buyer with a very private but thoroughly accessible stand-alone ranch.

It should be noted that, because of the successful development of the adjoining Morning Star Ranch, the donation or sale of a conservation easement giving up the development rights should have a significant financial benefit to a new owner of this ranch.

The seller would also consider some form of maintaining the current status quo whereby a buyer could step into his shoes as the developer/declarant in some way. This would likely facilitate the process of an easement donation. Seller's attorney has prepared a memorandum which describes this aspect of the offering in more detail.
Improvements
As stated earlier, the improvements on the South Mill Ranch can only be described as in impeccable condition, totally appropriate and in the best of taste. They are all adobe style structures that reflect the local vernacular. They include the following:
Main House
This impressive 5,056± sq. ft. residence includes a two-car garage and an impressive entrance into an enclosed courtyard. There is a master bedroom suite that includes an exercise room and a comfortable sitting area with fireplace. 
There are three guest bedrooms, all with full bathrooms. There is a large kitchen, an adjoining formal dining room, and a comfortable living room with a fireplace. There is also a one-half bathroom that serves as a powder room for guests. The real centerpiece of this house however is the massive enclosed rotunda (not included in square footage). 
It has three huge double-screen doors that open out to a patio that drops down to a swimming pool that is beautifully landscaped and surrounded by tile decking. The rotunda is a beautiful room with high ceilings and a large fireplace for the chilly evenings. With the doors open, one is basically outside and when they are closed, the ambiance is warm and cozy with the fire blazing. The views are astounding in every direction – much of them of the ranch itself, so there are no lights to be seen in the evening and one can almost touch the stars. 
Guest House 
Equally impressive but on a somewhat smaller scale the 3,182 square foot guest house is of similar design and finishes. One enters through double wood doors into an attractive enclosed courtyard. It includes a two-car garage and three guest bedrooms on the main floor that all open onto a patio above a sunken pool. Each has a full bathroom. Also on the main floor is a complete kitchen, dining room, living room with a fireplace, and a powder room. The piéce de résistance in this house is the fourth bedroom suite which is on a second floor. It is completely separate from the rest of the house and has its own patio with amazing views.
Caretakers House
This handsome smaller home employs a similar floor plan and finishes to the Guest House, but with two bedrooms on the main floor, each with a full bath and no upstairs suite. This house has the same living room, dining room, kitchen and powder room configuration. It has a beautifully landscaped yard. It would double nicely as a second guest house. 
Stable Complex
Still maintaining the adobe theme, the stables include a beautiful conference room, tack room, hay barn, horse barn and a picnic ramada, adding up to around 2,200 square feet. There are corrals, a windmill and water tank. There is also an older 1,449 square foot building that includes a shop and storage area. In addition the ranch maintains an FAA approved heliport near the stable complex.
Water Resources
The ranch is blessed with abundant water resources. There are three wells on the ranch as well as three ponds, one of which is generally dependable and forms an attractive small lake in the southeastern part of the property. One well is powered by wind, one is solar and the third is an electric well which pumps water to a concrete storage tank on the mountainside. A pipeline runs from there to a series of livestock and wildlife watering stations. There is one spring that can go dry in June. In addition the Morning Star Ranch and South Mill Ranch combine to be the second largest customer of Liberty Water, which is in the process of taking over the existing Homeowners Association water company. Liberty will provide water to both ranches. This gives them an assured supply as their pipeline passes through both ranches. Liberty receives water both from a number of existing wells and from the Santa Cruz River. 
Mineral Rights
All mineral rights owned by seller are included in the transaction.
Taxes
Real estate taxes are estimated at approximately $20,000 per year based upon past history.
Wildlife Resources
One of the many benefits of owning 1,224± acres which adjoins an 8,000± acre State Natural Area that has very limited public access to the portion that adjoins the ranch, is that one affectively has one's own private wildlife preserve. The present owners have enjoyed the wildlife but more could be done to enhance the populations such as developing multiple water and feed sources. 
The ranch is in one of the very few areas where one can find three species of quail – Gambel, scaled and Mearns. There are also doves on the ranch. Larger game animals include whitetail deer (Coues variety), mule deer, and javelina. The ranch also enjoys a variety of other large animals such as black bear, mountain lion, bobcat, fox and coyotes. Whitetail deer and javelina are the most prevalent huntable big game species. This area is well known for its trophy quality animals. 
The diversity of this region is exemplified by the flora more than anything else. A study in 2000-2001 by the University of Arizona counted over 487 species in the adjoining Natural Area. 
In addition "birders" come from all over the world to enjoy the diversity of birds to be found here. A local amateur birder has compiled a list of at least 60 species that she has seen on the two ranches. The Sonoita Creek State Natural Area is a particular destination for bird watchers. 
General Operations
The current owners/developers love the area and built the improvements for themselves and have enjoyed them seasonally. These are not "spec" homes and were built to an exacting standard with many personal features and quality finishes that one would only find in a personal residence. Currently their ranch manager lives on the property. However one of the great benefits of the locked-gate privacy and proximity to Tubac is that residents of this area have been able to hire part-time service people to maintain their properties when they are not in residence.
The livestock on the ranch are run on a lease in conjunction with the Morning Star Ranch as they are not fenced separately. This gives a local rancher over 5,000 acres upon which to have an economically feasible operation. This lease does not generate significant net income for either entity but the ability to interact with a legitimate livestock operation adds another dimension to the ownership of South Mill and maintains the integrity of the ranch. 
Terms
Cash at closing and the price does include all furnishings with the exception of the owner's personal items including some of the art.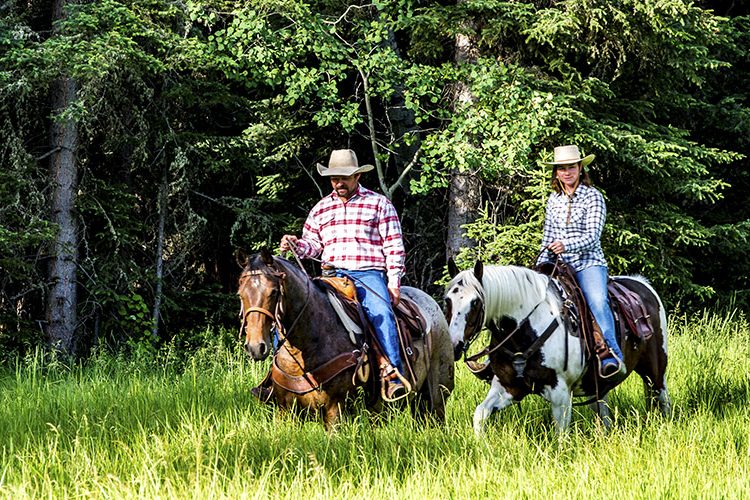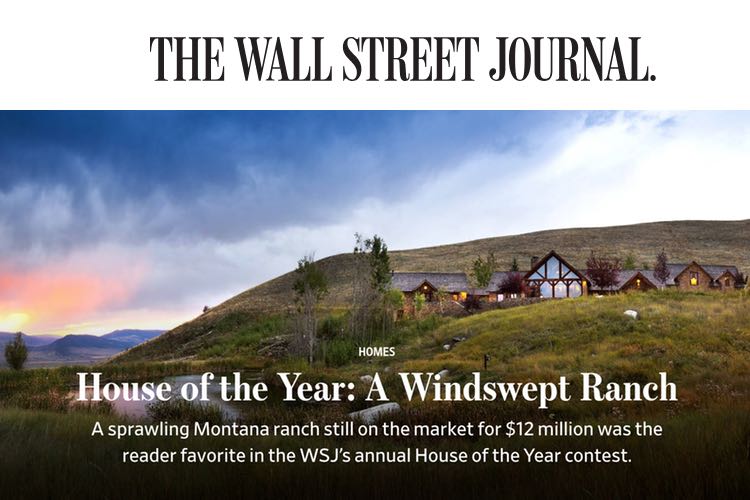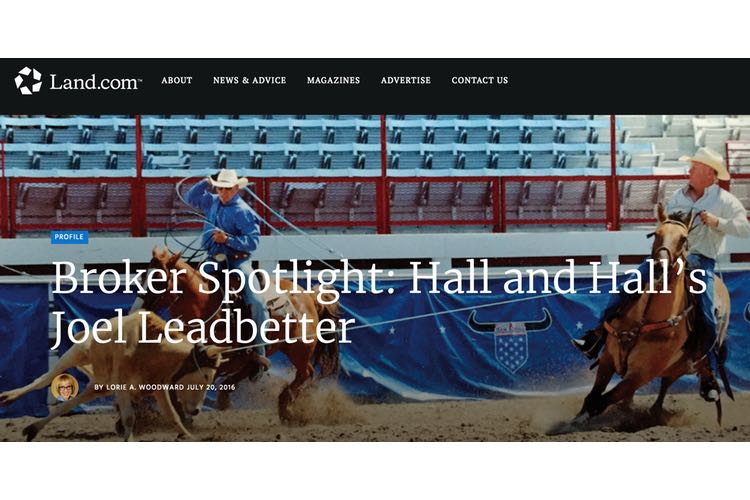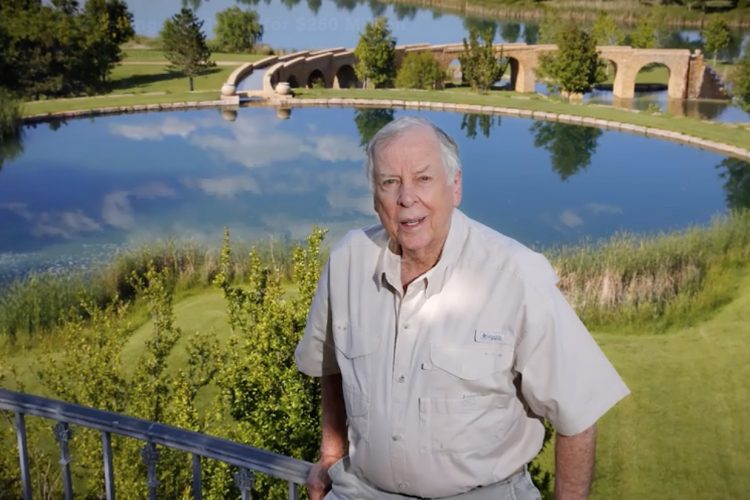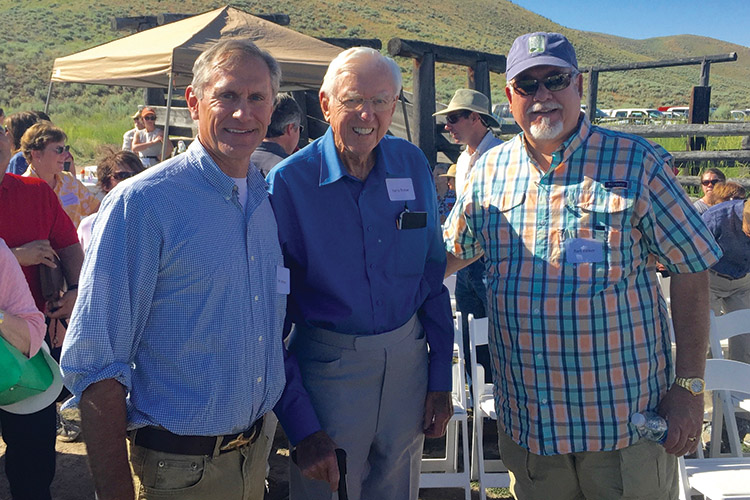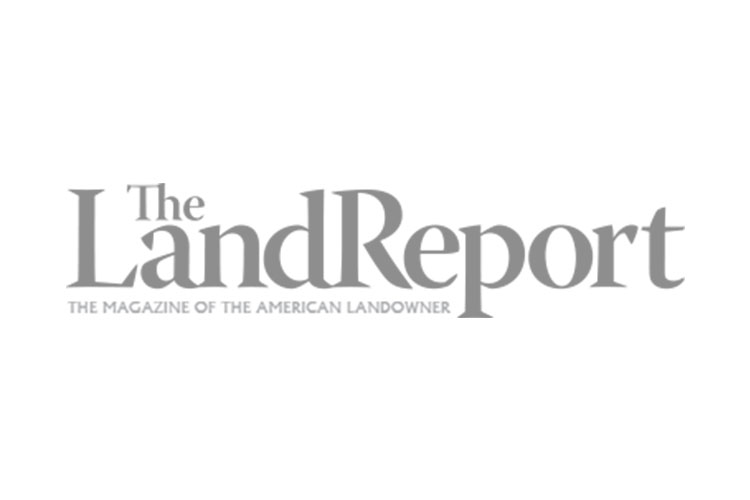 "When it was time to invest in a ranch for our family, we knew we needed to work with Hall and Hall. The expertise is unsurpassed."
In 1988, Joel Leadbetter became a partner at Hall and Hall where he has been instrumental in completing complicated, high-profile deals such as the recent sale of Texas' historic 512,000-acre Waggoner Ranch.
"The professionalism, preparation, and overall positive demeanor exhibited… were truly impressive… I have never before worked with a more dedicated, knowledgeable, and level-headed sales professional."
America's Best Brokerages