For Sale
Willow Oaks Plantation
$7,500,000
Eden, NC
1,769± Deeded Acres
Executive Summary
This beautiful and diverse landscape comprised of 1,769± acres, known since the 1800s as Willow Oaks Plantation, is situated on the Dan River in Rockingham County, North Carolina. Willow Oaks is an incredibly rich and bountiful recreational hunting property.  This area of North Carolina is regarded as the state's trophy belt for whitetail deer and Willow Oaks is known to be one of its garden spots. However, it is the diversity of the wildlife that makes this property a true gem. Manicured sunflower fields produce dove hunts that will leave family and friends anxious to return. On spring mornings, echoes of gobbling turkeys will be heard from all corners of the property. Known to be a micro-flyway, the managed waterfowl impoundments off  the Dan River provide duck hunts rarely found in this state, and of notable mention is that significant portions of the property's habitat have been optimized for quail hunting and an exciting release program has been implemented. Where there is fowl, there should be fin and Willow Oaks has two good six-acre fishing lakes along with a number of fishing opportunities on the Dan River. Other recreation abounds and the property would make for a world-class equestrian compound with some of this infrastructure already in place. Perhaps one of the more exquisite features of the plantation is the main house. Originally built in 1825, the home's historical character and charm have been meticulously maintained while modern amenities have been added.*Trent Jones of Hall & Hall is licensed as a Nonresident Limited Commercial Broker in affiliation with The Clearwater Group. Elliott Davenport and his firm, The Wings Group, are both licensed in accordance with the NCREC.
Save Property
Download Brochure
Just the Facts
1,769± acres located on the Dan River in Rockingham County, North Carolina
Built in 1825, the historic, beautiful main house has been immaculately maintained and updated with modern amenities; gorgeous grounds
Fantastic recreational hunting property for deer, turkey, dove, quail and ducks
Lots of water resources; creeks, rivers, lakes, ponds and shallow impoundments
Great fishing and more
Includes equestrian facilities that could easily be expanded
45 minutes from Greensboro, 1 hour from Winston Salem, 1.75 hours from Raleigh, 2.25 hours from Charlotte and 2.75 hours from Richmond
Broker's Comments
Willow Oaks' atmosphere is very inviting and will be enjoyed by all family members and their friends. It truly has something for everyone. The setting around the main house is quintessentially Southern and the views will ignite your imagination. The recreation is immense, diverse and of high quality. While the history runs deep at Willow Oaks, it is a property that will provide new owners with their own legacy.
Location
Located just south of the Virginia state line in Rockingham County, Willow Oaks is on the eastern outskirts of Eden, North Carolina. The property fronts County Route 770 and the Dan River is the southern boundary line for 2± miles.
There are two airports only 20 minutes away capable of handling all private aviation. The Danville Airport has a 6,500-ft runway, while the Shiloh Airport has a 5,200-ft runway. 
Danville, VA - 20 minutes
Greensboro, NC - 45 minutes 
Winston-Salem, NC - 1 hour
Raleigh, NC - 1.75 hours
Charlotte, NC - 2.25 hours 
Richmond, VA - 2.75 hours  
Climate
Lying within the eastern seaboard's humid subtropical zone, the area offers a mild, pleasant climate and four distinct seasons. Spring arrives in March with mild days and cool nights, and by late May the temperatures have warmed up considerably to herald warm summer days. On average, July is the warmest month of the year. The summer months tend to receive more precipitation than other times of the year with an average annual precipitation of 42 inches. Fall is marked by mild-to-warm days and cooler nights. Winter is usually mild, with the coldest days featuring lows near or slightly above freezing and highs in the upper 40s to mid-50s. Snow occurs sporadically, with an average annual accumulation of approximately six inches.
Acreage (Deeded & Leased)
Deeded Acres: 1,769±
Total Acres: 1,769±
* All acreages are approximations.
Additional Information
Col. William Byrd, of Westover, was the first to survey this area of North Carolina, at the time when there were no settlers living here. Since Indians did not abide by the modern concept of "property," Byrd can be called the first owner of the land as there is no known written record earlier than Col. Byrd's.

When Col. Byrd, ran the dividing line between Virginia and North Carolina in 1728, he selected 20,000 acres of land on the Dan River as the richest and best on the whole survey, which he called the "Land of Eden." Willow Oaks is the center of this "Land of Eden" and is considered its sweet spot. He speaks of this area in his "History of the Dividing Line" as follows:

"But then on a sudden the scene changed, and we were surprised with an opening of large extent, where the Sauro Indians once lived, who had a considerable nation, but the frequent inroads of the Senecas annoyed them incessantly, and obliged them to remove from this fine situation about thirty years ago.  It must have been a great misfortune to them to be obliged to abandon so beautiful a dwelling, where the air is wholesome, and the soil equal in fertility to any in the world.  The river is about eighty yards wide, always confined within its lofty banks, and rolling down its waters, as sweet as milk and as clear as crystal.  There runs a charming level (This is now Willow Oaks) of more than a mile square, that will bring forth like the lands of Egypt, without being overflowed once a year.  There is scarce a shrub in view to intercept your prospect, but grass as high as a man on horseback.  Towards the woods there is a gentle ascent till your sight is intercepted by an eminence that overlooks the whole landscape."
Improvements
Main House – 7,722± sq. ft.: The main residence is a beautiful, semi-colonial structure built around the year 1825 by Robert Brodnax. The house boasts an expert level of personal craftsmanship, exemplary of the fashion in which homes used to be built.  It sits on a well-manicured lawn with a scenic view of the valley. The seven-bedroom, five-and-one-half-bath residence is three stories tall. It has a wooden frame, with original beaded clapboard siding and a tin roof. The house has undergone multiple renovations, including expansions and the installation of modern amenities, all seamlessly blended in with the original plans thus preserving the home's charm.  The first floor contains a parlor room, formal dining room, office/reading room, bedroom, modern kitchen, den with dining area, mud room, and screened-in porch. A beautiful staircase winds up the three floors of the house, leading to the majority of the bedrooms located on the second and third floors. The bedrooms are very handsomely decorated, with several of them featuring ornate fireplaces and hand-carved wooden mantles. The skill of the original builder is evident and has been beautifully complemented by all involved in the house's restoration and expansion.  The home serves as a time machine, constantly reminding us of the history upon which the house was built.

Guest Lodge – 4,909± sq. ft. heated: A spacious guest lodge sits just a couple hundred yards away from the main residence. A former dairy barn, the two-story, five-bedroom, five-and-one-half-bath lodge has been converted to an attractive residence, perfect for hosting and entertaining a large number of guests. The lodge features two locker rooms to complement hunting and outdoor activities. A very large garage is attached to the lodge. The garage is capable of fitting multiple hunting vehicles as well as ample storage for equipment, and serves as a great transition from the outdoors to the indoors. The building also includes a manager's office as well as a large walk-in freezer and game-cleaning room.

Grain Bins/Equipment Shed – There are three grain bins and an equipment shed for housing the farm's equipment and supporting its operations. Farm Building – Across the gravel parking lot from the guest lodge, there is a large farm building with three bay doors. This is a multifunctional building used to support farm operations as well as entertaining larger crowds. The structure is approximately 100'x100'.Shooting Range – The farm boasts a really fun skeet and rifle range.

Caretaker's House – 4,186± sq. ft.: The caretaker's house is located on the northeast corner of the property at a secondary property entrance. The roomy, two-story house contains four bedrooms and four-and-one-half baths, a wrap-around porch, and an attached carport. This house would make any qualified manager proud to call it home.

Cowboy Lodge – 1,780± sq. ft.: Another small lodge sits just down the road from the caretaker's house and next to the horse barn. The lodge is perfect for a small hunting party and provides comfortable accommodations with three bedrooms and two baths.
Equestrian Stable – 3,825± sq. ft.: This horse barn has eight stalls, a wash bay, and a hayloft. It is a very nice structure and very functional.
Taxes
The annual property taxes for Willow Oaks are approximately $40,000 based upon previous years.
Fishery Resources
There are two lakes at Willow Oaks that are excellent bass and bream fisheries. They are each six acres in size.
Wildlife Resources
The property offers the perfect balance of land types including fertile bottomland, gently rolling hills, open fields and mature forests from which wildlife flourish.

Deer: Rockingham County has evolved from just a notch in North Carolina's northern Piedmont trophy belt to the shiny gold buckle. Rockingham County continues to place B&C bucks in North Carolina's state record books. Undeniably, this area grows big deer, and Willow Oaks is one of the county's most sought-after whitetail properties. There are six luxury box stands and forty ladder and lock-on stands set up and ready to go. In 2015, the property produced bucks that scored 172" (gross), 140" and 130." In addition, a buck that scored 173" B&C was found that had died of old age. The owner had been hunting this deer for several years.

Turkey: Willow Oaks' turkey hunting is really good. The landscape mix provides ideal habitat conditions for turkeys and they thrive on this property. Gobblers can truly be found on all corners, nooks and crannies providing an owner plenty of opportunities to stay on fresh birds throughout the season. One of the best listening posts is the main home's back porch. From here, an owner can roost a bird and plan the following morning's pursuit.

Dove: A number of carefully maintained sunflower fields provide sensational wingshooting experiences. In the fall, the doves flock from the surrounding roosts to these grain fields. These dove hunts provide lasting memories with family and friends.

Quail & Pheasant: Much of the farm's habitat has been managed in upload cover to support a quality quail program. With such excellent upland habitat, the quail program can be as good as the owner wants it to be - meaning the habitat will support an early-season release program that will produce strong-flying covey rises. Pheasant hunts are also organized on occasion. There is a nice dog kennel to house your trusted birddogs.

Ducks: While northern North Carolina is not known for its waterfowl migration, the Dan River serves as a micro-flyway for a small concentration of birds. Willow Oaks has a flooded 10-acre duck impoundment on the edge of the Dan River that produces some fun mornings in the blind every winter. There are a number of other small wetlands managed around the farm that produce duck hunting opportunities as well. The duck hunting is a real bonus to the wide variety of hunting recreation at Willow Oaks.

Fishing: There are two lakes at Willow Oaks that are excellent bass and bream fisheries. They are each six acres in size.
Recreational Considerations
Willow Oaks is a special property that offers a wide variety of recreational uses that engages all generations to explore and connect with the outdoors. The two lakes and the Dan River offer a number of water activities from swimming, to canoeing, to kayaking and fishing.

The farm is well suited for the equestrian, having all the infrastructure needed to accommodate horses. The miles of trails and roads provide the utmost for equestrian exploration. On a ride, one will enjoy beautiful vistas, game sightings and a landscape that will create lasting memories. While the equestrian program is modest in its current state, the platform to expand on this is very much in place and would provide for a world-class equestrian property should an owner's interests take him in that direction.

This trail system also provides for a number of other activities such as hiking, mountain biking, ATV-use and jogging. An extensive trail system is undeniably an asset when it comes to recreating.

To sharpen one's shooting eye, there are skeet and rifle ranges that provide for challenging but fun competitions. Quality hunting is managed year round and is discussed in more detail in the following "Wildlife Resources" section.

In summary, Willow Oaks is a property that offers an owner the exclusive opportunity to have an abundant amount of outdoor recreation. It is a property that can be appreciated and enjoyed by family and friends. Many years of committed management by the current owner have resulted in creating this special and unique place.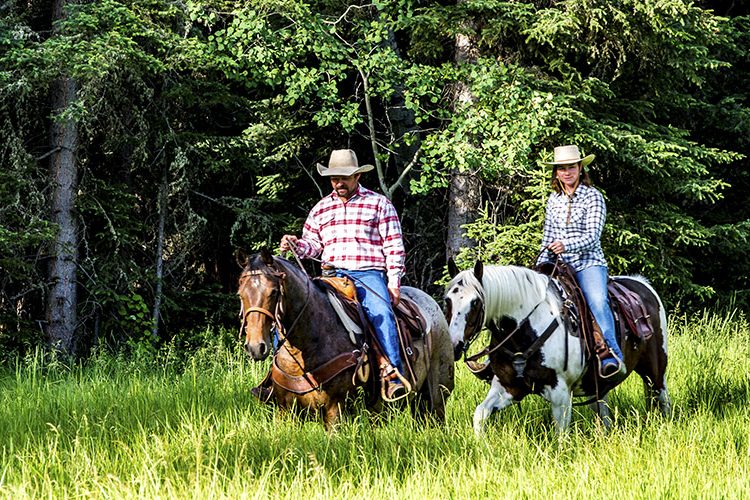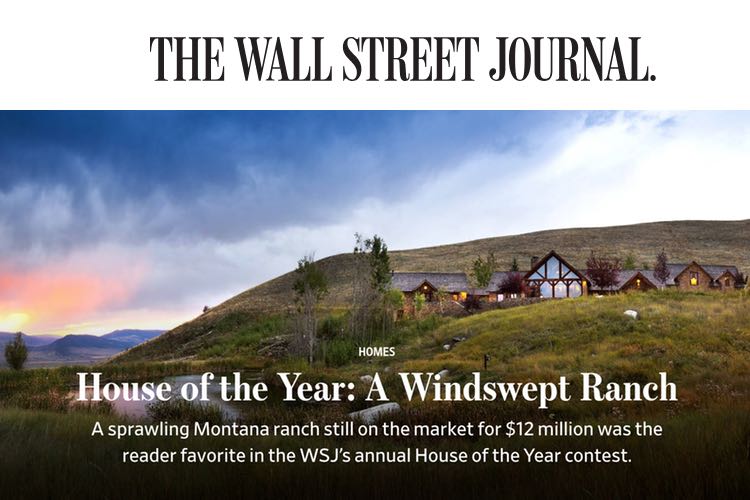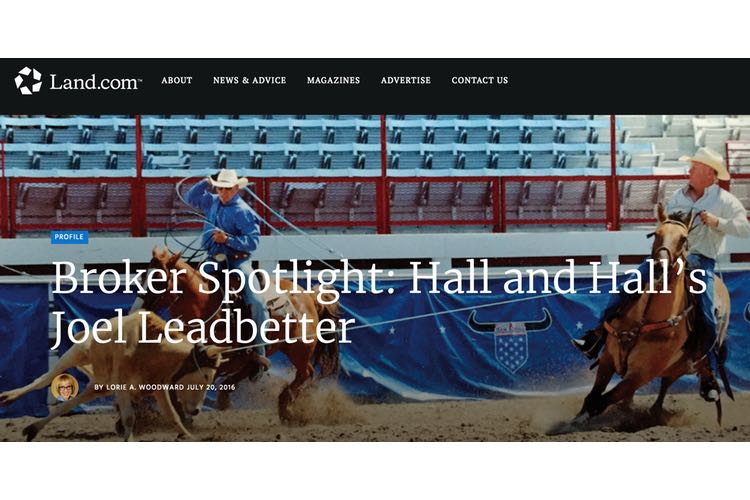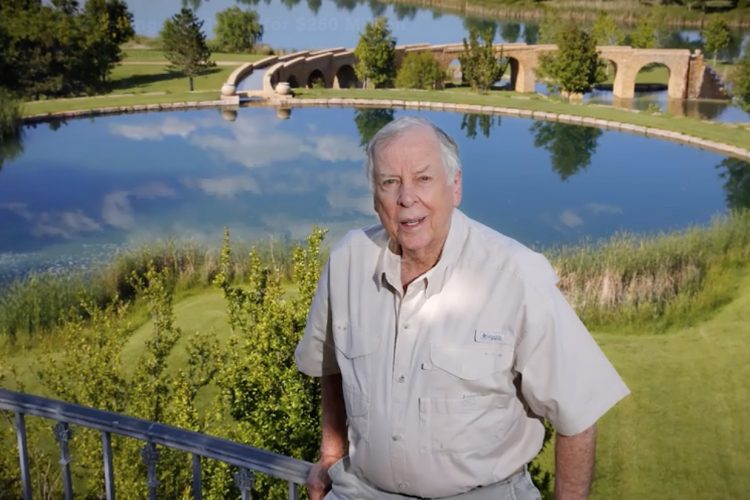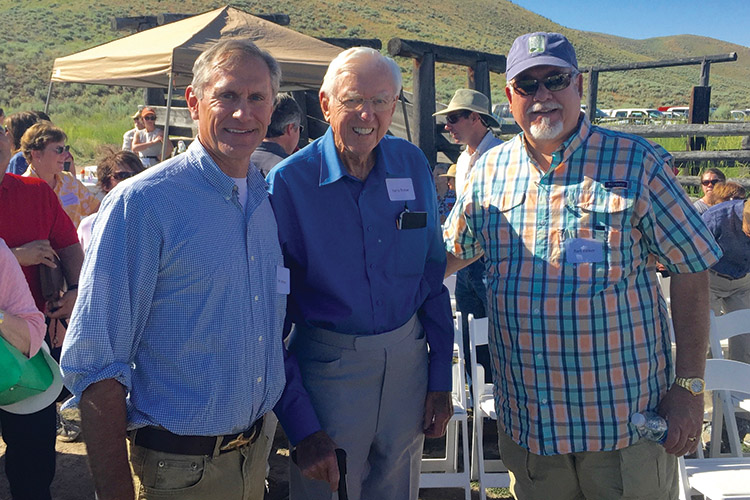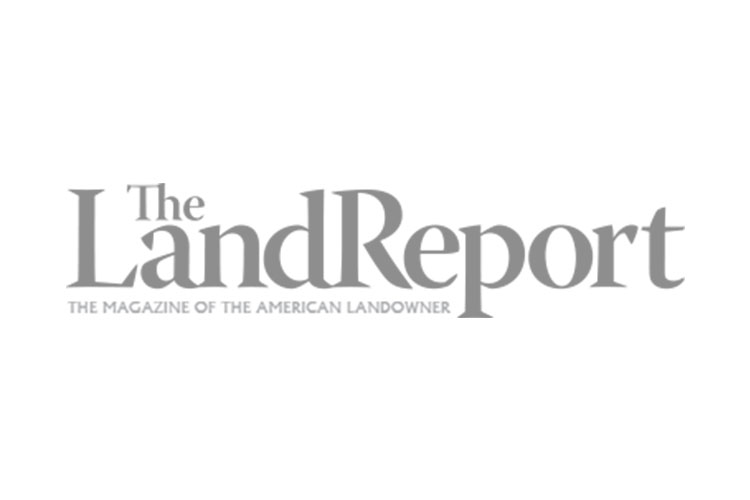 "When it was time to invest in a ranch for our family, we knew we needed to work with Hall and Hall. The expertise is unsurpassed."
In 1988, Joel Leadbetter became a partner at Hall and Hall where he has been instrumental in completing complicated, high-profile deals such as the recent sale of Texas' historic 512,000-acre Waggoner Ranch.
"The professionalism, preparation, and overall positive demeanor exhibited… were truly impressive… I have never before worked with a more dedicated, knowledgeable, and level-headed sales professional."
America's Best Brokerages