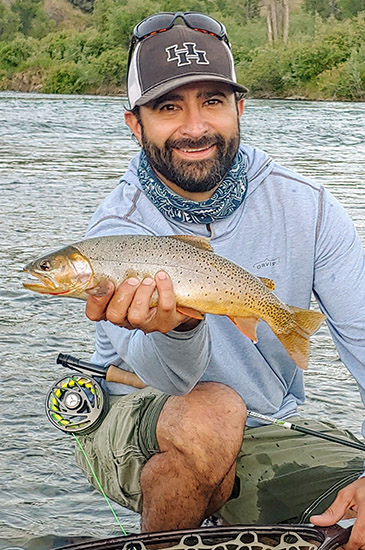 Carlos Ordoñez
Real Estate Partner
Originally from Colombia, South America, Carlos grew up in Chattanooga, TN, where he spent a great deal of his time exploring the outdoors and fishing the local streams and reservoirs, as well as the cold water trout streams of the Southern Appalachians and Great Smokey Mountains.  Following his graduation from the University of Tennessee at Chattanooga with a double major in Economics and Spanish, his passion for fishing, hunting and the great outdoors would later take him to Jackson Hole, Wyoming.  Carlos spent seven years guiding the trophy trout streams of the region, primarily the South Fork of the Snake and Teton rivers in Idaho, and the Snake River in Jackson, Wyoming.  Looking to merge his passion for fishing and hunting into a long-term professional career, Carlos decided to get his real estate license and has been a farm and ranch focused broker in the Rocky Mountain West since 2004. He is licensed in Wyoming, Idaho and Montana.
Ranching heritage runs deep in Carlos' family as he comes from a long line of Cebu cattle ranchers in Colombia, along with breeders and trainers of Colombian Paso Fino horses. Throughout his youth, he spent many summers on his uncles' ranches building a great admiration and respect for the ranching and horseman lifestyle.  This background, along with his passion for fishing, hunting and the outdoors, has made him a natural fit in this unique industry and has helped pave the way to many successful years as a ranch broker.
Carlos resides in the south end of Teton Valley in Victor, Idaho, with his wife Hilary, their three children, two bird dogs, and horses. He enjoys spending time in the outdoors with his family, floating down rivers, camping, and traveling abroad. Other passions include fly fishing, waterfowl and upland bird hunting, big game hunting, and riding horses.
Servicing the Following States