Today we're bringing you some of our favorite fall and winter cocktail recipes to drink when the temperature drops.
Maple Bourbon Moscow Mule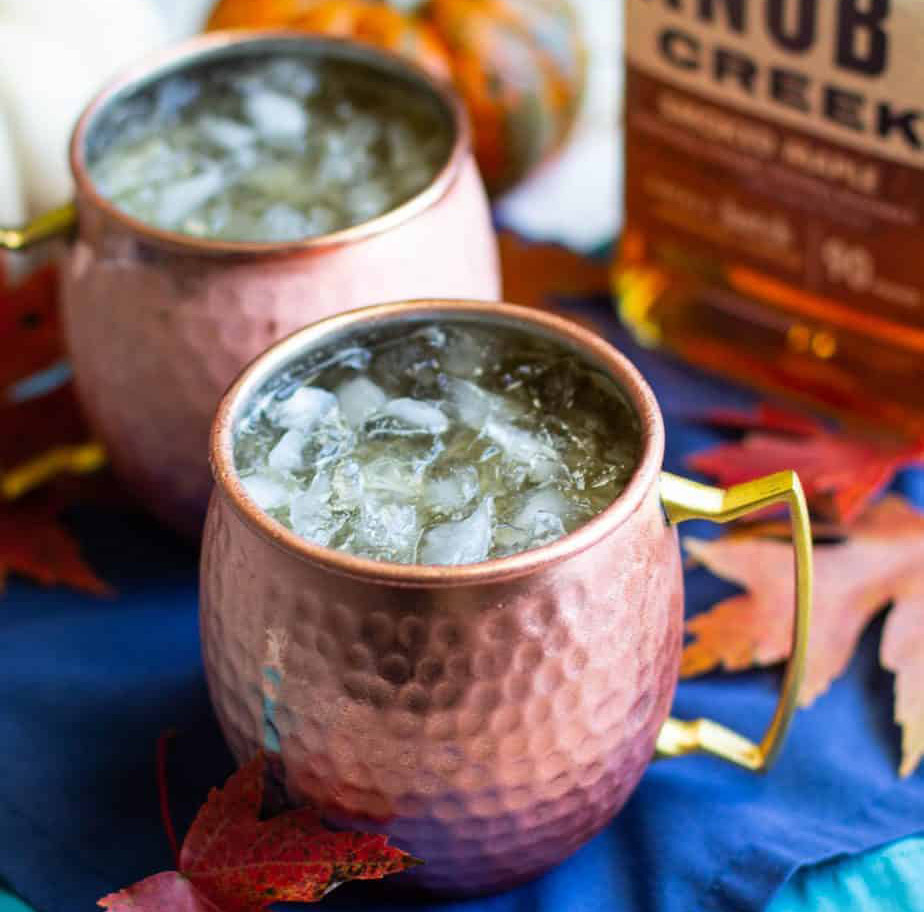 Real maple syrup, bourbon, and apple cider come together to make a 10/10 fall and winter cocktail: the Maple Bourbon Moscow Mule. Bonus points if you use the smoked maple bourbon!
Ingredients:
2 oz. smoked maple bourbon
2 oz. apple cider
2 oz. ginger beer
1 tsp. maple syrup
Juice from one lime
Ice
Directions:
Fill your copper mug with ice.
Pour smoked maple bourbon, real maple syrup, apple cider, ginger beer, and lime juice over the ice.
Stir gently and enjoy!
Smoke and Spice Cocktail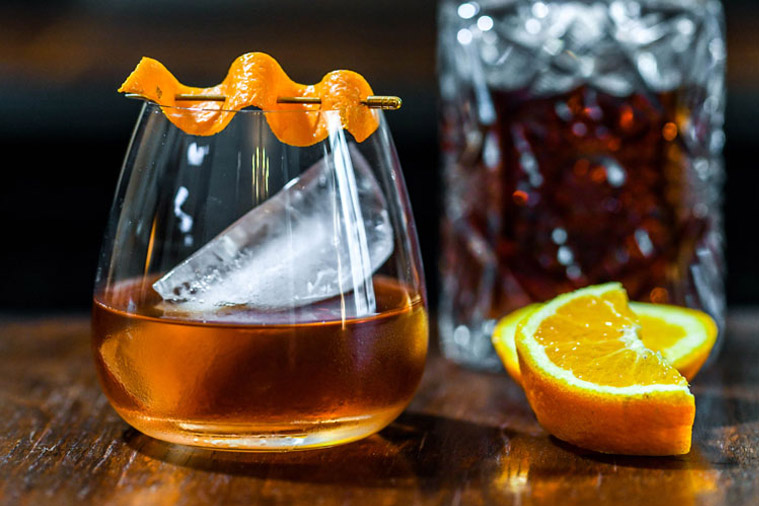 Celebrate a week of hard work with the smoke and spice cocktail. Featuring bourbon, rye, mezcal, and a hint of strawberry, this delicious aromatic drink has a lovely balance of flavors.
Ingredients:
1 ounce bourbon
1 ounce rye
½ ounce mezcal
½ ounce strawberry syrup
2 dashes aromatic bitters
Directions:
Combine all ingredients in a cocktail glass with ice.
Stir to chill and combine.
Fine strain into your cocktail glass over fresh ice.
Garnish and enjoy!
Campfire Cocktail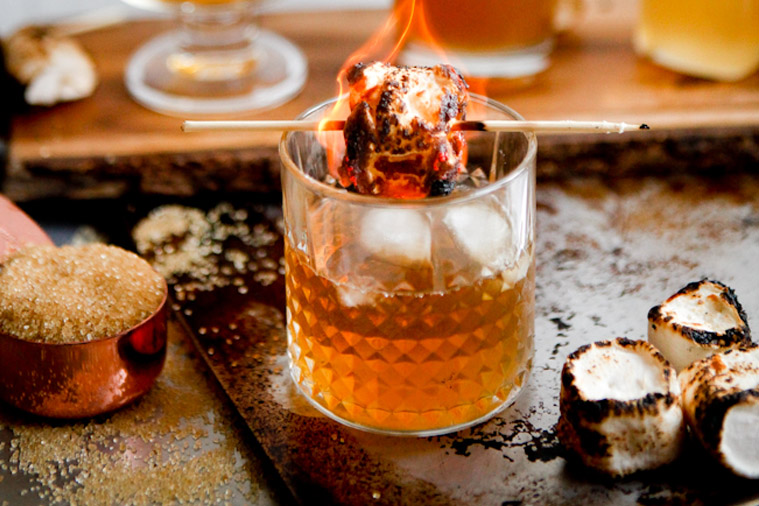 This campfire cocktail combines bourbon and marshmallows to give you that warm cozy feeling. Perfect for fall and winter nights around the campfire.
Ingredients:
1 cup sugar
1 cup water
8-10 marshmallows
6 oz. Bulleit Rye whiskey
Splash Laphroaig single malt whisky
Directions:
In a saucepan, heat water and sugar until sugar is dissolved. Add marshmallows and increase the heat to medium-high, stirring the marshmallows frequently until they're dissolved, about 5 minutes.
Strain the marshmallow simple syrup into an airtight container (a bottle or mason jar work great here), removing the leftover marshmallow solids. Set aside to cool. Simple syrup will keep for 2 weeks and should be refrigerated.
In a glass, add Bulleit and a splash of the Laphroaig (it's optional, but it adds a needed smokiness to the drink). Stir in 2 oz. of marshmallow simple syrup, or more to taste.
Add ice, garnish with a toasted marshmallow, and enjoy!
Brown Sugar Old Fashioned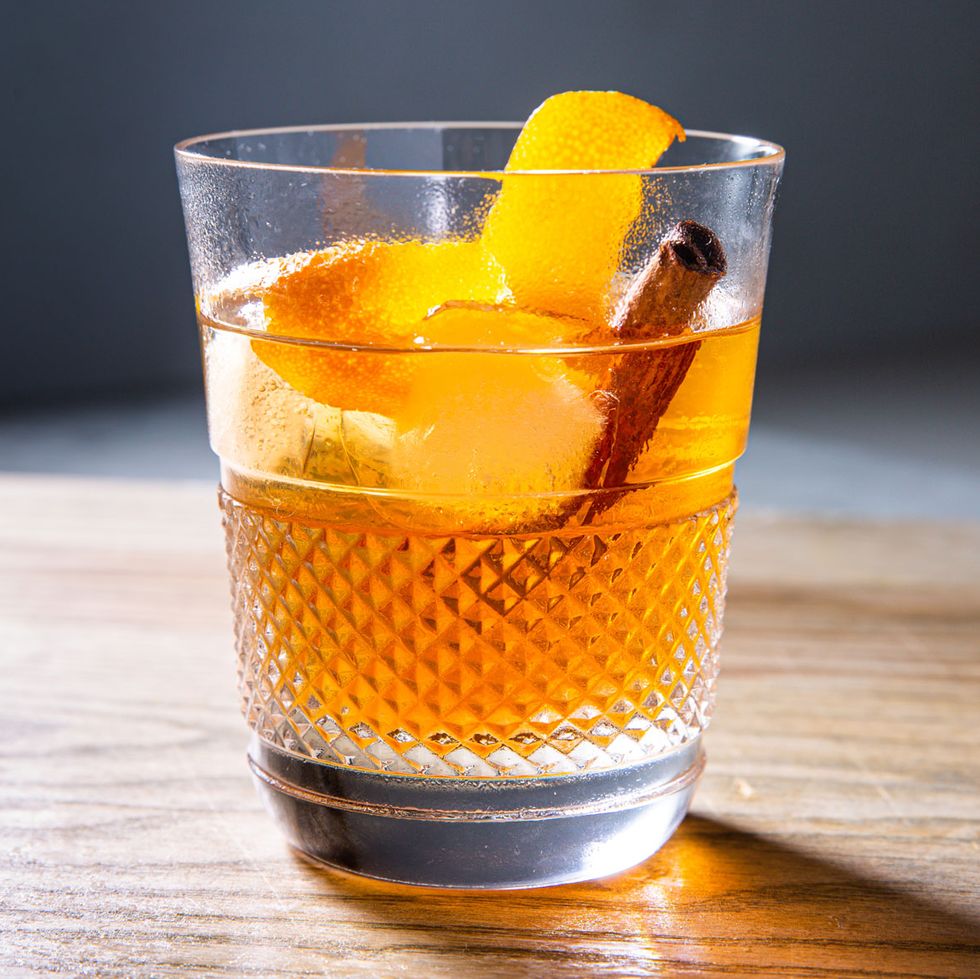 A little brown sugar makes this classic cocktail extra warm and cozy. The brown sugar gives it a hint of caramel and makes this drink feel anything but old fashioned.
Ingredients:
1 tsp. packed brown sugar
1 tsp. water
2 dashes Angostura bitters
2 oz. bourbon
Ice
Orange peel, for garnish
Cinnamon stick, for garnish
Directions:
Add sugar, water, and bitters to glass. Muddle until sugar is dissolved. Add bourbon and ice and stir to combine.
Garnish with an orange peel and cinnamon stick.
Caramel Apple Hot Toddy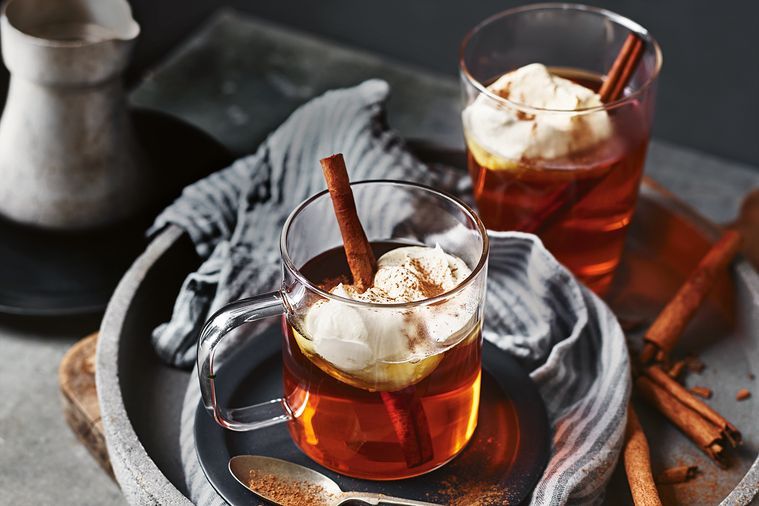 There is no better way to warm up than with a hot toddy. Fireplace optional, but highly recommended.
Ingredients:
2/3 cup superfine sugar
2/3 cup apple juice
4 cinnamon sticks
2/3 cup apple pie liqueur
Whipped cream, to serve
Ground cinnamon, to dust
Directions:
Place sugar in a medium-heavy saucepan over high heat with 1 tablespoon of water. Cook, swirling pan, for 5-6 minutes or until golden and caramel. Using a metal spoon (and being mindful of the steam), stir in 2 cups water and swirl pan until caramel and water are combined. Stir in apple juice and cinnamon quills, then stir in the liqueur.

Divide among glasses, spoon over whipped cream and dust with cinnamon to serve
Mulled Wine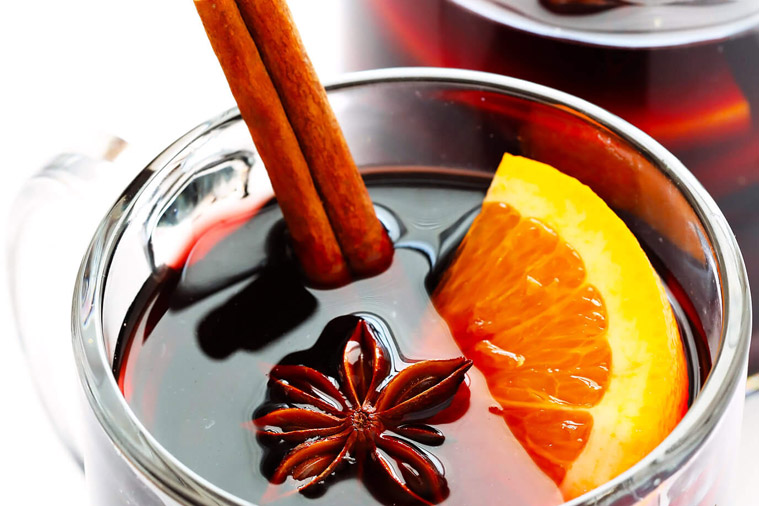 Homemade mulled wine is just about the easiest recipe ever for winter and holiday entertaining. And it's guaranteed to make your home smell absolutely amazing and warm everyone up on a chilly winter night.
Ingredients:
1 (750 ml) bottle of dry red wine
1 orange, sliced into rounds (also peeled, if you would like a less-bitter drink)
8 whole cloves
2 cinnamon sticks
2 star anise
2 to 4 tablespoons sugar, honey, or maple syrup to taste (or your desired sweetener)
optional add-in: 1/4 cup brandy (or your favorite liqueur)
optional garnishes: citrus slices (orange, lemon and/or lime), extra cinnamon sticks, extra star anise
Directions:
Combine all ingredients in a large saucepan and stir to combine.
Cook the mulled wine on medium-high heat until it just barely reaches a simmer. (Avoid letting it bubble — you don't want to boil off the alcohol.) Reduce heat to low, cover, and let the wine simmer for at least 15 minutes or up to 3 hours.
Using a fine mesh strainer, remove and discard the orange slices, cloves, cinnamon sticks, and star anise. Give the mulled wine a taste, and stir in extra sweetener if needed.
Serve warm in heatproof mugs, topped with your favorite garnishes.