It's not every winter we encounter storms that lodge in a person's memory and nudge the retelling by those who can recall earlier blizzards and the resulting aftermath.  The winter of 2022-23 will go down as one of those historic events. As losses are being tallied, stories of survival are shared, unsung heroes are unveiled, and recovery begins its long, methodical process.
At the time of my conversation with Hall and Hall Partner, Mark Johnson, and Roger Joseph, the owner of Crazy Hole Creek Ranch, 54" and 59" of snow had fallen, respectively, on each of their properties since December 1, 2022. To put that in perspective, find someone approximately five feet tall and imagine walking next to them at head height.
Roger is currently preparing to hold their 25th annual Joseph Angus bull sale with the help of his wife and a ranch hand. Keeping those bulls from lying on frozen ground, fed, watered, and alive was number one on their priority list.  Despite losing one large Morton barn to snow weight, that drifted over 30+ foot tall trees, onto the roof over a four-day period they managed to see the bulls through the worst of it.  Roger has been in ranching all his life and he said to prepare for these types of blizzards, an owner needs to consider food, access to water, and for the bulls straw to lie on to prevent freezing and sterilization.
Taking care of the houses and family requires another set of demands. Roger employed four generators to keep water moving to the various homes on his property. Their main home had a wood-burning fireplace, but they were without the comforts provided by electricity over the four-day period.  Roger survived 17 days without electricity during the Atlas Storm, so he did his best to prepare for the forecasted weather.  He was able to visit his mother for Christmas Day, though the 34-mile trip took 70+ miles as he altered his route to accommodate for the drifted-over roads.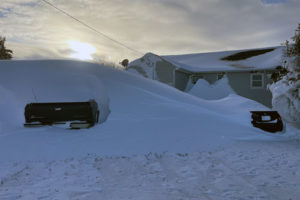 Meanwhile, approximately 70 miles to the southwest in the Niobrara River Canyon, Mark with his wife and young son, were also without electricity and unable to reach their cattle. Cattle will often drift to a coulee or windbreaks to shelter from a storm but when the blizzards bring an unprecedented amount of snow and wind, the cattle can be buried and suffocate.
Each day the family would fire up the generator to run their Wi-Fi for a few hours to communicate with the outside world and for Stinson to catch up on his Bluey episodes. As any parent can attest, it's tough to keep a toddler cooped up for four days!
The battle for survival certainly wasn't restricted to humans and livestock, the wildlife suffered heavily.  The deer and antelope that have been spotted are exhausted from their fight to survive the elements and find food and water.  Winner, South Dakota is proclaimed the pheasant capital of the world and it is hard to know how their numbers fared against Mother Nature's winter ferocity.
Though it will be a while before the snow removal is finally complete, one-lane roads are restored to two, and final losses and saves are tallied, the show is going on for the Joseph Angus bull sale scheduled for January 16.
The strength and endurance of the few who choose this beautiful and demanding lifestyle will ensure that the sale is successful.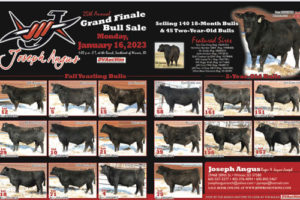 Two teen-aged heroes delivered necessary medicine to Zoey, the daughter of Mark Johnson's cousin.  An important, successful endeavor worth celebrating!
Snowmobile employed to deliver penicillin to sick child in Sandhills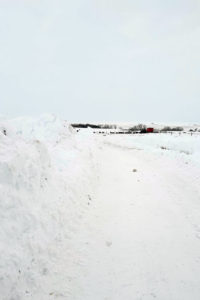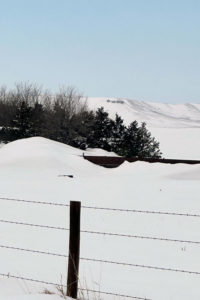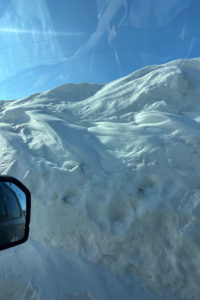 The great storms that surge across the Plains region have unprecedentedly claimed wildlife, livestock, and human lives.  Catch up on your history and some of the most-remembered storms below.
The Schoolhouse Tragedy of 1888