Three Springs Ranch has recently sold!  Read more about why this ranch is a draw for dinosaur enthusiasts worldwide: Mansion Global and the Daily Mail.
Located in Dinosaur, Colorado, so named because of its proximity to Dinosaur National Monument and located approximately 20 miles from the ranch, conveys the theme of the region and the bordering National Park.  And large (formerly behemoth dinosaurs) animals remain a prominent benefit to the area.  Three Springs Ranch offers a high-quality hunting unit with a private tag allocation achieved through Colorado's Ranching for Wildlife program.  The exceptional big game hunting is complemented by a well-run livestock program.
As featured in the Wall Street Journal.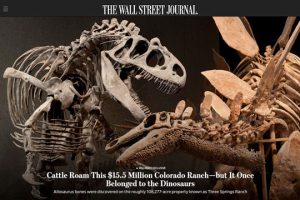 Three Springs Ranch is featured in a Bill Moyers Journal documentary.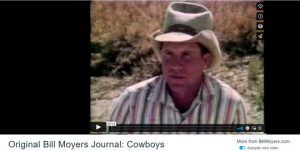 Read more on Allice the Allosaurus dinosaur fossil discovery – it makes for an interesting read, including a young girl's foray into amateur paleontology and perhaps an unauthorized visit to the Denver Science Museum!  UK Daily Mail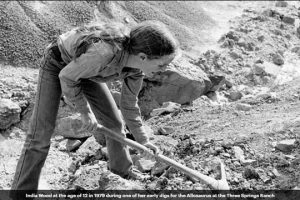 And don't miss more information compiled on the story in the New York Post!