With lakes, ponds and about 1.25 miles of Billingsley Creek running through it, the property is a "duck paradise," Mr. Baker said. "It's startling." The brothers also stocked the creek with rainbow trout for fishing, he said. Wall Street Journal
A stream restoration project was undertaken in 2007 to create the finest trout habitat possible while preserving the outcome of the property. The project resulted in the creation of a robust and diverse stream system that is a haven for both trout and waterfowl.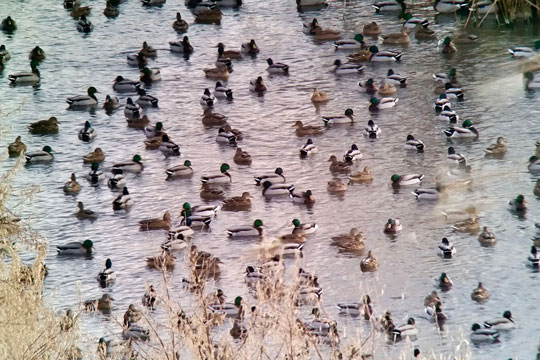 The west side of Billingsley Creek features approximately 130 acres of irrigated farmland, with the balance of the acreage encompassing the property's residential and agricultural improvements, numerous irrigated wildlife food plots, riparian bottomland areas, and several year-round lakes. The main home and guest house sit on knolls overlooking Billingsley Creek and the beautiful riparian area abutting the stream. The east side of Billingsley Creek consists of approximately 220 acres of irrigated farmland and 140± acres of stream frontage and riparian habitat, with deciduous trees and native vegetation extending from the stream to the base of vertical basalt cliffs.
Views from the ranch are of the bucolic Hagerman Valley and extend north from the snowcapped Soldier Mountains near Sun Valley south to the Owyhee Mountains in southwest Idaho. The ranch is bordered by agricultural holdings and serviced by paved county roads that link to Hagerman and Highway 30. An internal road and trail network offers access to all parts of the property and to numerous hunting and fishing spots. A vehicle bridge over Billingsley Creek enables convenient internal access to either side of the ranch.
A property that features world-class duck hunting with the best in trout fishing, in the way that Billingsley Creek Ranch does, comes along maybe once in a generation. The ranch is truly a "unicorn" in the market today and in a class by itself.