Diamond Tail Ranch embodies the iconic image of an authentic Rocky Mountain ranch, encompassing a secluded valley at the base of snow-capped peaks, with a trout-filled river flowing through lush meadows and pastures dotted with abundant wildlife grazing alongside ranch livestock. The picturesque setting for this extraordinary ranch is the pristine upper Laramie River Valley in northern Colorado, an optimal locale where the river spills out of the high country into a broad valley ringed by mountains. Spanning the entire five-mile width of the basin, Diamond Tail's 17,656± deeded acres ascend up the surrounding mountain slopes to wilderness, national forest and BLM boundaries.
Incredible amounts of water flow onto the property from all sides, highlighted by over 27 miles of live water and outstanding private trout fishing. The Laramie River, an excellent wild brown fishery, flows through the heart of the ranch for 11.5± miles. Two tributary streams, McIntyre and LaGarde Creeks, add 5.8± miles of additional trout fishing. A handful of smaller year-round creeks contribute another 9.8± miles of water for agriculture and wildlife. With all this live water flowing through the ranch, homesteaders began filing on the water for irrigation beginning as early as 1880. In total, an astounding 307.6± CFS of senior water rights are owned by the ranch, irrigating approximately 3,000 acres.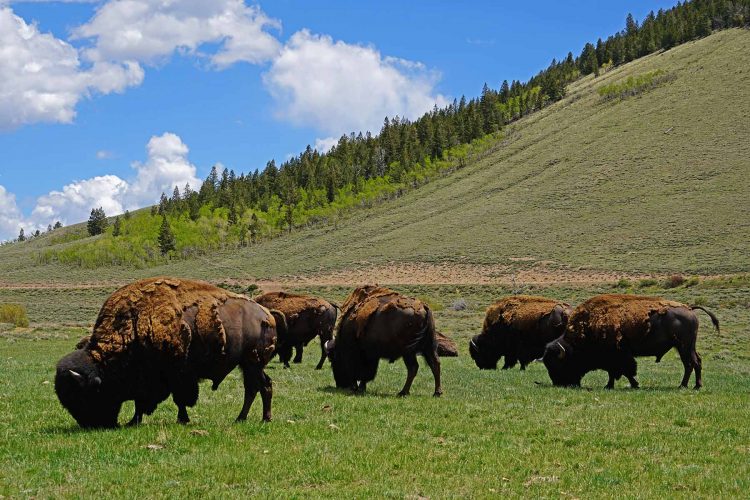 Rich riparian and production areas are complemented by rolling grassland prairies ideal for grazing. As they had done for centuries, a large bison herd still roams the ranch today. Diamond Tail is well known for its commercial bison, operating successfully for over 30 years. The 750± head bison herd is complemented by a ranch cattle herd of 350± head plus another 450± head leased during the summer grazing season. Grazing permits adjacent to the ranch add 20,225± acres of additional capacity, and a capable ranch manager and staff ensure an efficient operation.
The higher elevations of the ranch add attractive scenery as well as habitat diversity for abundant wildlife. Aspen groves and timbered hillsides provide bedding and cover to balance the water and feeding areas, attracting game from the surrounding Rawah Wilderness, Roosevelt National Forest and BLM lands. Resident species include prolific herds of elk, as well as mule and whitetail deer, moose, pronghorn, black bear, cougar, grouse and a variety of waterfowl. The sheer size of the ranch, combined with plentiful wildlife and Landowner Preference applications, make it an excellent hunting property.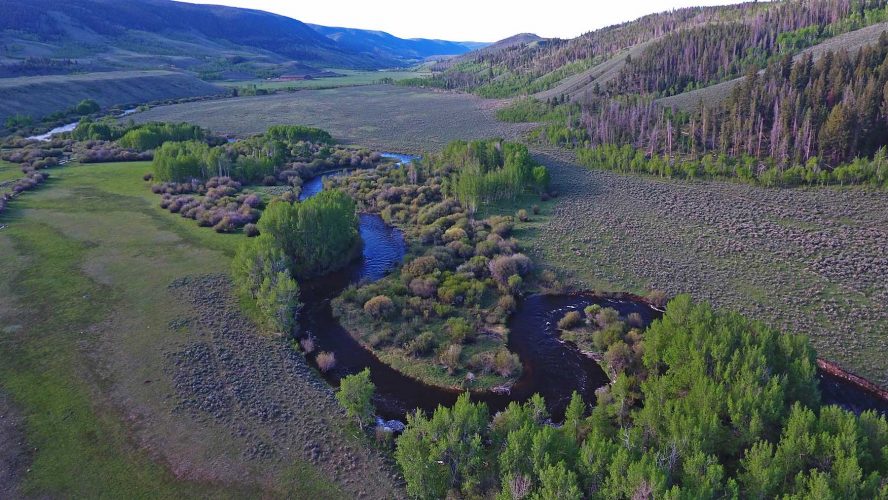 Since 1979, Diamond Tail Ranch has been carefully stewarded by the Duncan family, owners of renown Silver Oak Cellars. A functional array of quality improvements are utilized for owner, guest and operational usage. Well-maintained buildings range from historic barns to modern owner's homes and authentic guest cabins. Unique structures such as a dining hall and hilltop chapel help accommodate large groups comfortably. The ranch is outfitted with on-site employee housing, operational support buildings, livestock handling facilities, and even a private airstrip. Despite its secluded mountain valley locale, Diamond Tail is easily accessible 45± minutes from all services in Laramie, Wyoming, including the commercial airport, and only 2-3 hours from the Ft. Collins, Boulder and Denver metro areas.
Steeped in historical significance, natural resources and ecological importance, Diamond Tail Ranch is truly one of the most appealing and significant large-scale mountain ranches to become available in recent years. It is exceptionally rare to find a diverse ranch running on over 37,800 contiguous acres, spanning a beautiful river valley, and no existing conservation easement. Even more compelling is a successful ag component that supports the ownership of the ranch, without interfering with its recreation.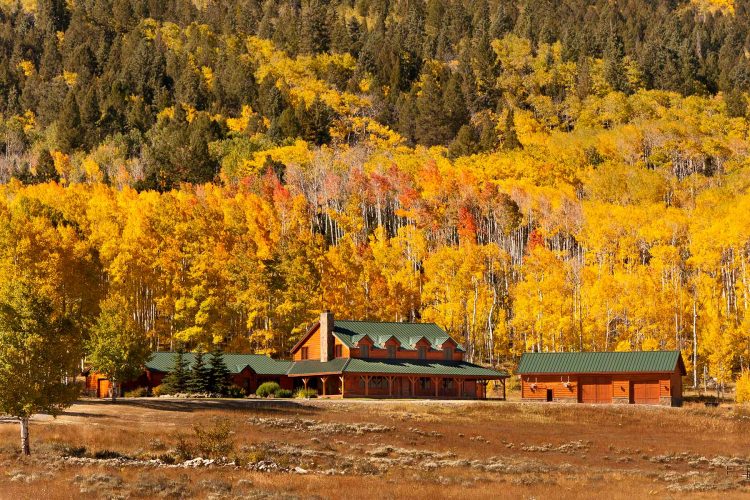 White Pine Double Heart Ranch combines virtually every quality that one looks for in a mountain ranch. On the recreational side, it has outstanding wildlife viewing and big game hunting, as well as over five miles of near blue-ribbon quality fishing on Tomichi Creek. It also both adjoins the national forest and ties together thousands of acres of other public land. From the point of view of location, it is 26 miles east of Gunnison, a small, dynamic Colorado mountain town that has good commercial air service. The ranch is less than a one-hour drive to Crested Butte, which is a world class destination ski resort.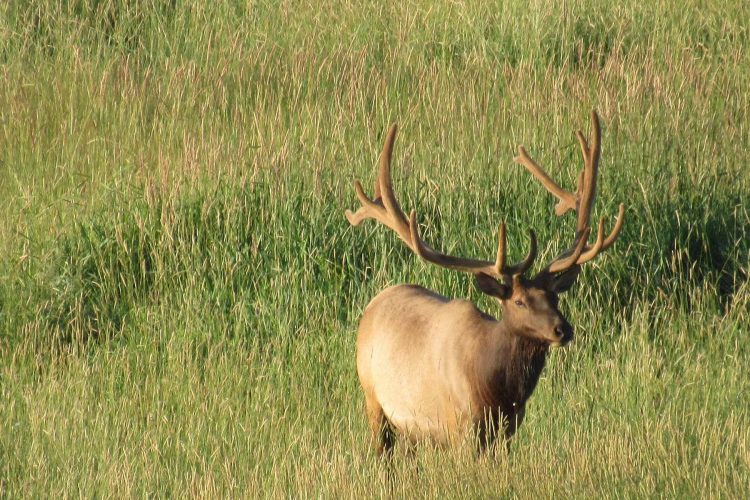 And, unlike many mountain retreats in Colorado, it has a viable livestock operation estimated at 800 animal units which operates on 11,300± deeded acres and approximately 45,000 acres of state, BLM and USFS grazing leases and permits. Its land base offers an appealing mix of lush irrigated meadows with early water rights that produce around 2,500 tons of hay per year, as well as sagebrush uplands which transition to timbered mountain pastures. Improvements are exceptional. They include a large lodge complex that sleeps up to 26 and offers the potential for a viable commercial guest/hunting operation, or it can simply function as a base for a family or corporate retreat. In addition, the ranch has three "owner quality" homes, five manager and staff houses and good-quality ranch operating facilities. This is also a scenic ranch with broad meadows and open, timbered pastures and the towering Tomichi Dome rising right out of the middle of the property. In summary, this is a fully-improved, operating mountain ranch in a great location with a full complement of scenic and recreational amenities.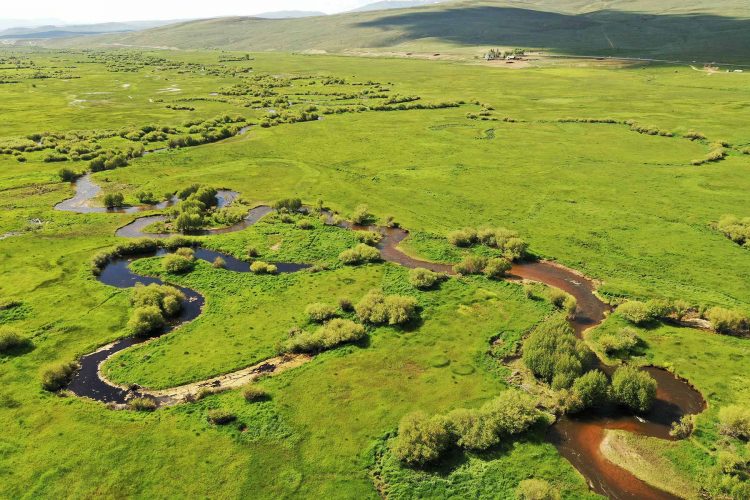 Land. That's where it all begins. Whether it's farmland or family retreats, cattle ranches or plantations, it's more than a home. It's more than an investment. It's a piece of you. Land is what shapes us. It's the mold that casts our heritage, our hopes, and our dreams. It's the conduit that connects generation after generation. Since 1946, we've handed down a legacy of excellence in quality rural real estate. Our business began by cultivating long-term relationships built upon personal service and expert counsel. We continue to grow today, because we're client-focused and results-oriented.
And while it all starts with the land, it ends with you. Want to see more? Check out all of our premium property listings by clicking the button below.