The IX Ranch is a legacy ranch – it is huge, has a long history of stable ownership and a respected reputation in reputation ranch country. Its central Montana location is 80 miles northeast of Great Falls and adjacent to the town of Big Sandy. The current owners are the second owners in the ranch's 128-year history. This professionally managed operation runs a cattle herd of 4,300. They currently winter around 3,375 bred females, 120 3-year-and-younger bulls and ranch horses, together with 4,000 tons of winter feed. In the spring, around 650 of the previous years' heifer calves will return to the ranch for breeding from a grow-lot near Billings. The operation covers over 126,305± acres, of which 59,889± is deeded and the majority of the balance being State grazing leases. It is well improved, with accommodations for a full crew including a manager, as well as comfortable quarters for guests. Besides its position as one of Montana's great cattle ranches, the IX boasts large populations of elk, mule deer, whitetail deer, antelope, mountain lion, and five species of upland birds. It is also a scenic ranch boasting a diversity of habitat types from productive meadows to rolling hills which give way to steeper mountain country with scatterings of aspens and evergreens.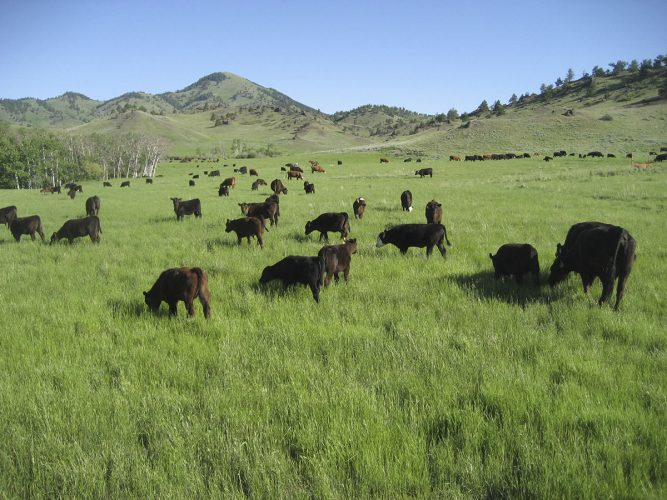 Land. That's where it all begins. Whether it's farmland or family retreats, cattle ranches or plantations, it's more than a home. It's more than an investment. It's a piece of you. Land is what shapes us. It's the mold that casts our heritage, our hopes, and our dreams. It's the conduit that connects generation after generation. Since 1946, we've handed down a legacy of excellence in quality rural real estate. Our business began by cultivating long-term relationships built upon personal service and expert counsel. We continue to grow today, because we're client-focused and results-oriented.
And while it all starts with the land, it ends with you. Want to see more? Check out all of our premium property listings by clicking the button below.