Land of Opportunity
Land acquisition in the past couple of years was at an unforeseen rapid pace, and increased values followed.  Though many of us thought land values had hit unprecedented highs that were not sustainable, we saw those individuals with cash reserves and available liquidity take advantage of the opportunity they saw in the marketplace.  Land values continued to rise across the country, as evidenced by the National Agricultural Statistics Service.  (Reference: https://www.nass.usda.gov/Publications/Todays_Reports/reports/land0822.pdf)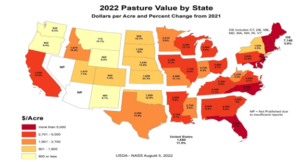 Managing Director, B Elfland, in the 2022 Recap spoke of the increased demand across the Great Plains in 2022, and this is supported by the percentage change indicated across the Upper Plains.  For the time being, it seems as though values are holding as credit quality remains strong and the market appears to be at a stalemate.  Will increased rates have an impact on land values going forward? Only time will tell.
What We See Today
We witnessed the Federal Reserve take aggressive action to attempt to slow inflationary pressure by increasing rates and selling large swaths of bonds on their balance sheet to take the liquidity out of the marketplace.  The increase in interest rates has had an impact on the demand for new loan requests.
Compared to the record growth pace seen in Hall and Hall lending during 2020 and 2021, the past year seems slow, while, in fact, it was still above average in the production of new loan volume.  The financing of what we refer to as true production ranches appear to be impacted the greatest by these recent rate increases.  Credit quality remains excellent and shows minimal to no signs of distress in our loan portfolio today, mostly supported by other non-farm income.  We continue to monitor our portfolio to stay out in front of any concerns we might encounter.  This allows us to remain a stable source of capital for our clients, borrowers, and friends.
Being Your Trusted Advisor
First and foremost, we appreciate the relationship that we have built with each one of you.  We want to continue to be a resource to you and your operation, bringing additional value to your decision-making.  Being a full-service firm, we have multiple avenues that we can utilize when assisting with finance, management, auction, and brokerage services should the need arise.
Click HERE for our full Year in Review.