Seventy-five years ago, the attitude of people in agriculture very much revolved around "beating" Mother Nature. As times have progressed, this attitude has softened as farmers and ranchers have discovered it is possible to work successfully with Mother Nature. Nevertheless, despite all our best efforts, Mother Nature does have a way of, as my father used to say, "making a Christian out of you."
The past twelve to eighteen months have proven this adage to be true.  The major natural disasters we have seen include hurricanes and earthquakes as well as the wildfires that swept across the southern plains and, subsequently, pretty much everywhere else west of the Mississippi. In addition, we have been affected by extreme weather that has caused everything from flooding and blizzards to extreme drought. As we battle this adversity, we hope that with each event we might gain knowledge to prepare for the next round. The following are not happy stories, but they describe how two families survived natural disasters and they are inspirational in many ways.
The Holloway Cattle Story – Mooreland, Oklahoma
This operation has been impacted by fire three of the last four years.  Ranching 400± cows across more than 11,000± acres in northwest Oklahoma where conditions can be harsh is no easy task.  Mark Holloway stated, "In our operation, the goal is to add as much value to the cattle as we can.  Retaining ownership through the feedlot, in addition to selling bred heifers, is common practice."  In 2017, fire impacted 4,500± acres causing Holloway to feed nearly 300 head of cattle for ninety days until the grass came on.  Mark indicated the NRCS had a program that would pay $8/acre for delaying grazing on these acres for 120 days, which helped to offset some of the feed cost.  In addition, neighboring ranches shipped in eight loads of hay.  "We did not apply for any further assistance as so many were impacted much more than we were," Mark added.  The majority of the cattle were moved before the fires swept across their ranch and they lost just ten head. Some of the surviving cattle, however, have lasting issues and will have to be sold this fall. We should also point out that Holloways lost 9,000± acres of grass to fire in 2016 and 1,000± acres in 2015, so fire has been truly devastating to this family.  The positive in all of this is most of the western red cedar that has overtaken a large part of this country has been destroyed, springs have opened back up and begun to run again, and pastures look better than ever.  New practices are being implemented including maintaining a firebreak where the grass will be kept short and cedars kept out of the fence rows. In addition, they will utilize controlled burns as Mother Nature allows.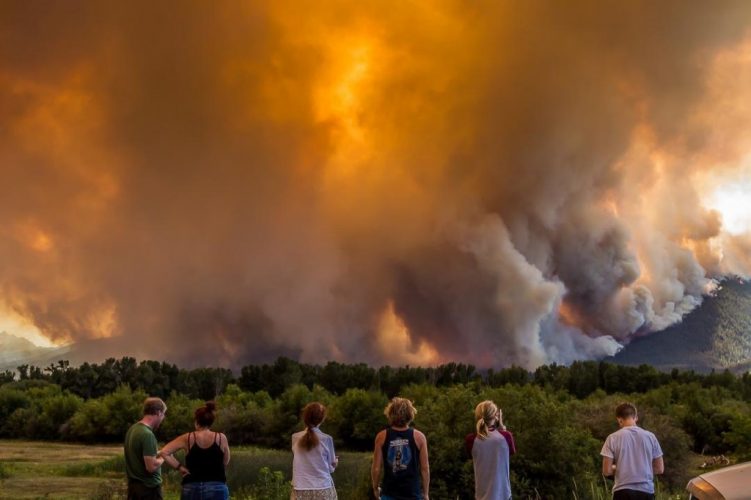 The Haakma Bros. Dairy Story – Farwell, Texas
"The dairy looked like a war zone after the blizzard conditions," according to Eric Haakma.  Their 3,600± cow dairy and 1,000± acre irrigated farming operation was significantly impacted by these conditions.  The area was reported to have received 20 inches of snow, but with 50 mph winds for 40-hours straight, who knows how much they received!  They made the best preparations they could with all the cots, food, sleeping bags, and water that could be purchased before the storm hit.  By Saturday afternoon they still had seen no precipitation at all, but Eric asked the employees to stay through the night as he knew they would need help based on the forecast.  By 1:00 a.m. Sunday, it was nearly whiteout conditions. The payloader was stuck in the transfer alley and they could not get it out using another loader.  Through the weekend they fed and milked all that they could, which at the time was about 65 percent of their herd.  They were finally able to get a tunnel dug through the snow so they could get the cows to the parlor to get them milked.  By Monday, three payloaders were working to remove the snow, which took all day.  They have lost 400± head of excellent-quality dairy cows.  Eric stated, "You want to talk about something that makes a guy want to hit his knees and cry." When asked what he would do differently in preparing, he mentioned they may have tried to move cattle around more, but they would have been guessing on where the snow would accumulate.  They had all seen good snow storms, but not with this kind of wind on top of it.  Some pens had six feet of snow, while others were as dry as if it had never snowed at all.  Eric recalled, "Without our employees, we would have never made it.  They stuck with us throughout and worked right alongside us when they could have easily called it quits."
These are just two examples out of so many. As we said before, Mother Nature does have a way of humbling us. Our collective hearts here at Hall and Hall go out to our many friends and clients throughout our region who have suffered through natural disasters of which there seem to be so many these days. These stories will pale in comparison to the stories that will come out after  Maria, Irma, and Harvey. We have nothing but admiration and respect for the manner in which people like the Haakmas and the Holloways have managed to persevere.