The Sanctuary Ranch lies about 19 miles north of Red Lodge in the center of the Rock Creek Valley. Its 879± acres encompass one or both sides of Rock Creek for approximately two miles. One third – more or less – of the property lies on the east side of Rock Creek and represents one of the most extraordinary fishing retreats we have ever been privileged to offer for sale. Besides two miles of Rock Creek which is an exceptional freestone fishery in its own right, the owners have created a 1.5-mile private spring creek enhanced fishery that is absolutely amazing – clearly a labor of love by a dedicated fisherman.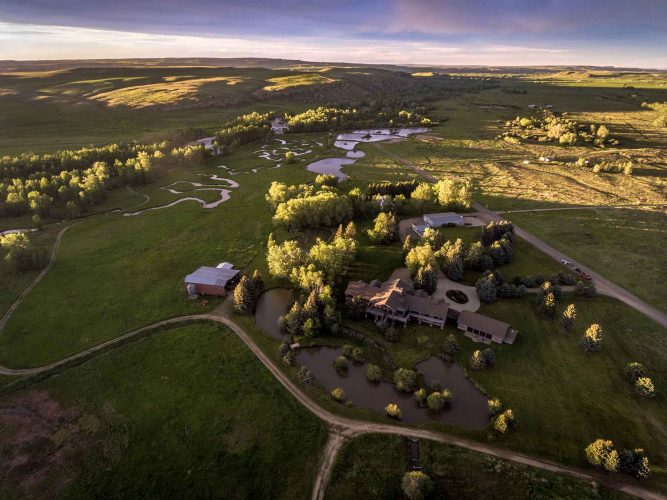 There are also nine stocked spring fed ponds to add further diversity to the angling experience. The balance of the ranch on the west side of Rock Creek consists of rolling uplands that support good populations of pheasants and upland birds. The buildings include a magnificent 12,000 plus square foot owner's home, three staff or guest houses, and a large hangar/shop. It is truly a one of a kind fishing retreat.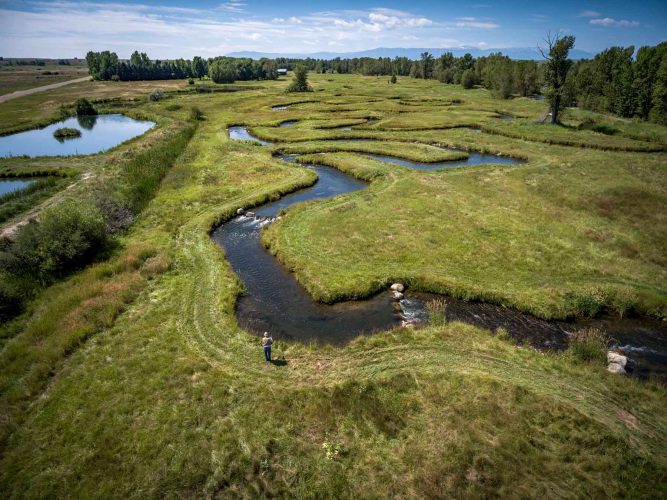 Location: 19 miles north of Red Lodge and 38 miles southwest of Billings
Acreage: 879± deeded acres
Terrain: Over 300 acres are lush river bottom land with the balance being uplands rising up from the river bottom
Improvements: Beautiful 12,500± square foot owner's home plus large shop/hangar and three additional modest homes for staff and guests
Fishing: 1.5-mile private spring fed trout stream, two miles of Red Lodge Creek and nine stocked ponds
Operation: Summer grazing and limited hay production
Access: Immediate access off of paved U.S. 212
Views: Dramatic! Of the Beartooth Front – Montana's highest mountains
Wildlife: Both deer species, upland birds, pheasants, waterfowl
Summary: World class private fishing retreat and great upland and waterfowl with outstanding private home and terrific access to ski resort, and great commercial air service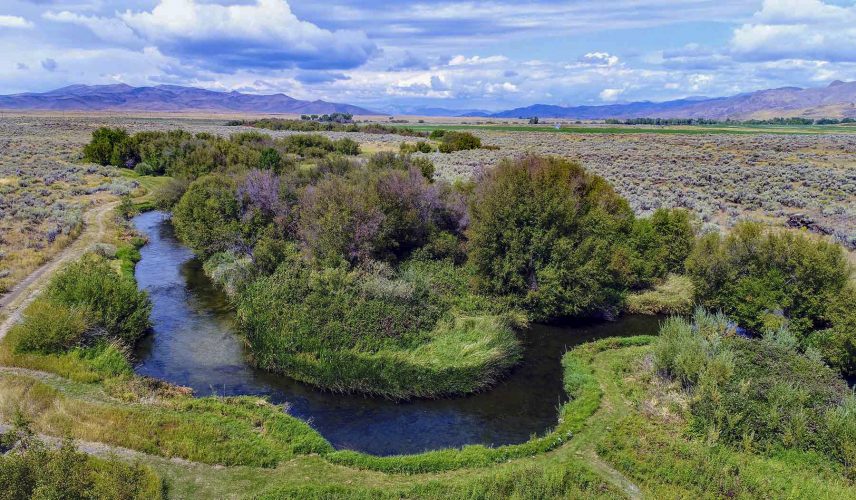 Encompassing 1,226± acres and a remarkable two and a half miles of fabled Silver Creek, the Renegade Ranch is one of the premier sporting and lifestyle properties in the Sun Valley area. Nestled against the rocky foothills of the Pioneer Mountains, the ranch is conveniently located 45 minutes from Ketchum and the Sun Valley Resort and a half-hour south of the commercial airport in Hailey.
With a reputation as one of the great spring creek trout fisheries in the world, Silver Creek is the centerpiece of the ranch, and few properties in the Silver Creek system offer as much stream frontage or privacy as the Renegade. The birch-lined stretch of Silver Creek flowing through the ranch is not only lengthy but incredibly diverse featuring gravel-lined runs, deep, undercut banks, and well-oxygenated riffles cascading over a basalt rock bottom. Angling opportunities and access to the stream corridor is greatly enhanced by an extensive road and trail network that leads to numerous prime fishing spots. Some of the largest fish in the Silver Creek system are found on the ranch with browns regularly exceeding 20 inches.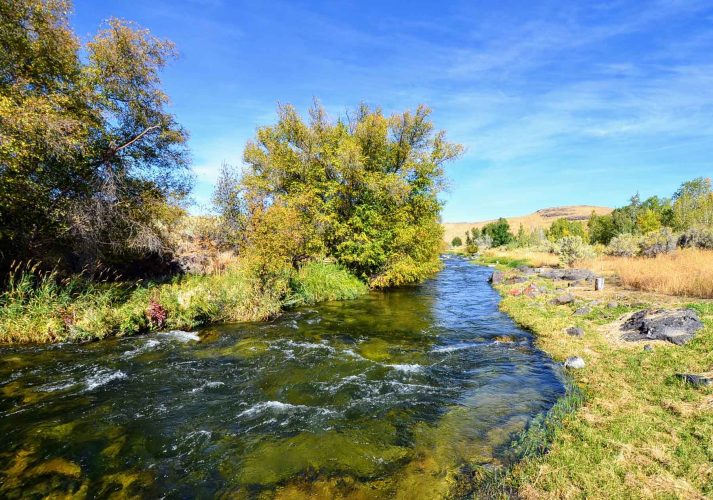 Improvements complement the ranch and are highlighted by a 2,160± square foot "fishing cabin" located in a secluded aspen grove on the banks of Silver Creek. Designed by acclaimed local architect Jim Ruscitto, this comfortable, finely crafted log home features three bedrooms with ensuite bathrooms, an open floor plan, a large stone fireplace, and an expansive covered deck overlooking the creek. Upstream of the cabin is an outdoor venue with a fire pit and barbeque area ideal for creekside dining and entertaining. Other improvements include a three-bedroom guest house, manager's residence, additional employee housing, equipment storage, and a large workshop with attached dog kennels.
Although trout fishing is the predominant activity at the Renegade, the ranch provides excellent wildlife habitat and is home to upland game birds as well as elk and mule deer. The ranch is located in hunt unit 52 and the Smokey-Bennett elk zone and qualifies for landowner appreciation permits for controlled hunts. In addition to its recreational attributes, the Renegade features an active farming operation that utilizes approximately 250 acres of sprinkler-irrigated cropland to raise hay and grain. The Renegade is not covered by a conservation easement at the present time. However, because of the property's size, location, and extensive frontage on Silver Creek, it is a prime candidate for one.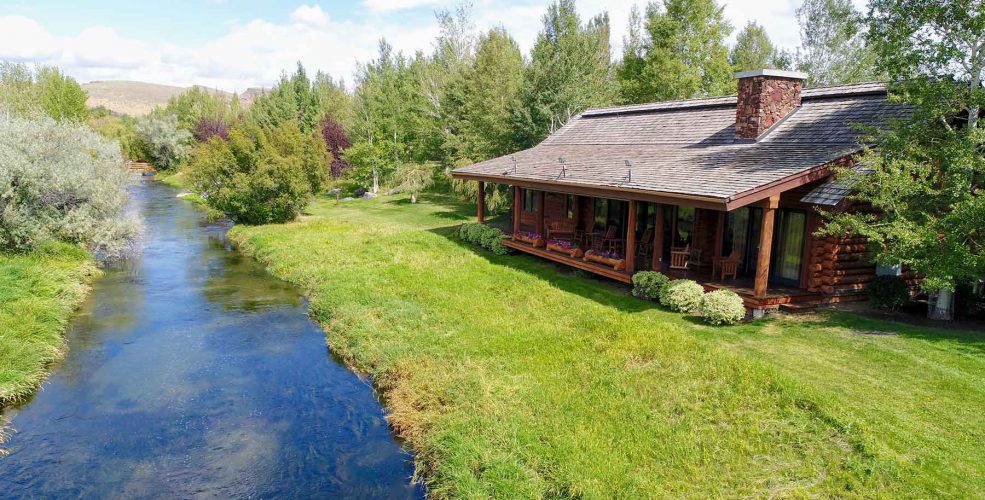 Land. That's where it all begins. Whether it's farmland or family retreats, cattle ranches or plantations, it's more than a home. It's more than an investment. It's a piece of you. Land is what shapes us. It's the mold that casts our heritage, our hopes, and our dreams. It's the conduit that connects generation after generation. Since 1946, we've handed down a legacy of excellence in quality rural real estate. Our business began by cultivating long-term relationships built upon personal service and expert counsel. We continue to grow today, because we're client-focused and results-oriented.
And while it all starts with the land, it ends with you. Want to see more? Check out all of our premium property listings by clicking the button below.