An emerging trend in agriculture nationwide has been the establishment of high-quality vineyards at inviting price points. Take a tour with Christina Holbrook, the author or Winelands of Colorado.
One of the most pronounced effects of COVID-19 has been quite basic. "People are taking a step back these days," says Hall and Hall broker Alex Webel. "They're asking, 'Am I doing what I love?'"
What began as a requirement to shelter in place has evolved into a cultural and economic shift that will in all likelihood remain permanent. Webel himself is a prime example. Many aspects of his job can be conducted remotely via Zoom.
"It's not going to change, and it has broadened everyone's horizons," he says. It's no longer necessary to be in one particular location to conduct business, "and people are considering big-picture issues. If I have flexibility in where I live — where do I want that to be?"
For a certain group of individuals, investing in a vineyard offers answers to these questions. Acquiring a vineyard can be a viable economic decision, incorporating a passion for wine with a lifestyle focused on open space, fresh air, and potentially more time with family. Buyers may have vineyard or winery experience, a background in hospitality, or simply an urge to explore a long-held dream. One need not have world-class ambitions or spend a fortune, especially if you target an emerging wine-grape producing region rather than a marquee block.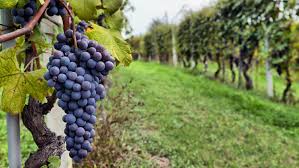 NEW YORK'S FINGER LAKES
Ten thousand years ago, the advance and retreat of melting glaciers scoured the lands from Canada south through New York, gouging deep troughs. Eventually these valleys filled with water, forming the Finger Lakes.
Today, this region, including Cayuga, Seneca, and Keuka Lakes, is an area of unique microclimates created by water, sun, sloping shores, and silt loam soil. The Finger Lakes American Viticulture Area (AVA) is recognized as one of the top wine-grape growing regions in the US. Louis Barruol, a 14th-generation winemaker from France's Southern Rhone Valley, chose property on Seneca Lake in 2008 to grow Riesling and a cold hardy Pinot Noir. Today, his Forge Cellars Dry Rieslings earn 90 points and above from Wine Spectator.
The Finger Lakes AVA is home to more than 130 wineries. Realtor Jennifer Persoon of Jelliff Auction & Realty confirms that interest in vineyard property is growing among urban dwellers seeking a retreat from city living.
"People looking at vineyards are often segueing into a second career. In their first careers, they've been successful, and now they are looking for a change of life and lifestyle. And for those with no wine growing experience, Cornell University's world-class viticulture and enology program is a resource for any new buyer."
Persoon is excited by the recent interest from investors in New York, Florida, and even Singapore.
"You sort of fall in love with this region once you come here," notes Laury Ward of Finger Lakes Wine Country Tourism Marketing. "It is such a warm, inclusive community. I love seeing that expression on the faces of visitors: 'Oh! This is a different type of place. Th is feels good!'"
VIRGINIA WINE COUNTRY
It is said that Thomas Jefferson believed Virginia had the perfect terroir for vine-yards. But two hundred years passed before Virginia's wine industry really took root in the 1970s. Today, more than 300 wineries are spread out over 4,000 acres and eight American Viticultural Areas (AVAs).
A new generation of Virginia wine-makers is creating wines that express a sense of place and identity. Classic varieties like Chardonnay, Merlot, and Cabernet Sauvignon take on a flavor that is unique to the Virginia terroir. Lesser-known varieties like Viognier, Cabernet Franc, and the local Norton varietal shine and produce surprisingly elegant results. Grapevines benefi t from the long, temperate growing season.
Are investors interested in Virginia vineyards? Definitely, according to Hall and Hall's Alex Webel. "The short answer is, people are interested. I toured people just the other day from Charlottesville who were exploring a lot of business ventures, one being a winery. For these buyers, and others, what is interesting about Virginia is its accessibility. It is two hours to D.C. and an hour-and-a-half to Richmond."
Webel notes that many of the vineyards that have been owned for generations are changing hands — either to the next generation or to new players. "The Virginia wine industry is coming into its own, and more people will enter the market. Buyers considering a vineyard or winery purchase will benefit from the critical mass that Virginia wine country is reaching."
TEXAS HILL COUNTRY
In the spring of 2019, The New York Times ran a profile of a young wine-maker and his family who shuttered their North Fork, Long Island, winery due to cumbersome local restrictions and moved their entire enterprise to more business-friendly Texas. Where did they restart from scratch? The wide-open Texas Hill Country. It's an alluring tale of hard work and creative freedom under a big sky.
And it's all true, asserts broker Justin Cop of Fredericksburg Realty. Several of Cop's recent transactions have involved buyers choosing to move out of areas where taxes and local restrictions have become onerous, instead buying agricultural and vineyard properties in the Hill Country. "People are moving for the lifestyle, but they are also moving for tax purposes, for what may be coming down the pike in terms of new tax laws for businesses."
While most major production vine-yards in Texas are based hundreds of miles away farther west, it's the Texas Hill Country — home to two of Texas's eight AVAs — that is attracting attention as one of the top 10 wine travel destinations in the world, according to Wine Enthusiast.
"More and more vineyards are being planted here in the Hill Country where most of the storefronts are already located," Cop says. "The Hill Country is close to the big cities. It's an hour from Austin and San Antonio. And it's become a magnet for tourism, with shuttles on a regular basis that take visitors from town out to the wineries. Highway 290 has become the 'wine corridor,'" Cop says.